Roland DG UK opens new head office and creative centre.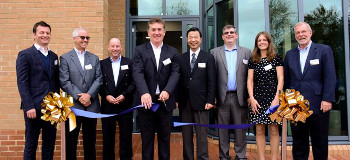 Photograph shows Jerry Davies (Managing Director, Roland DG (UK) Ltd) cutting the ribbon to mark the official opening of Roland DG UK's new head office and Creative Centre. Overseen by Mr Tomioka, President of Roland DG Corporation and members of the Roland DG senior management team, both in the UK and internationallyRoland DG (UK) Ltd has officially opened its new head office and Creative Centre in Clevedon, near Bristol. The ceremony was officiated by the global President of Roland DG Corporation, Mr Tomioka. Members of the Roland DG UK team were also present at the event, as well as CEOs and representatives from Roland DG offices around the world.
Jerry Davies, Managing Director, Roland DG (UK) Ltd said: "We've had a very successful few years of growth here in the UK, and this state-of-the-art facility gives us everything we need to ensure we can continue to grow and serve all our customers in a manner they deserve and are accustomed to."
The new Creative Centre is being heralded as a 'unique space', showcasing the vast range of applications possible with Roland's machines. It's also designed to highlight the markets that customers can sell into including signage, sublimation and textile, retail, personalisation and promotional items, 3D printing, milling and engraving, interior decoration and an array of fun, creative and new applications you wouldn't expect. The aim of Roland's Creative Centre is to inspire, excite and ultimately showcase profitable business opportunities for sign makers, print and 3D professionals and others from across the visual communications industry. Roland DG pointed out that visitors should particularly look out for the photo opportunity wall, where they can travel to outer space and a huge range of items which have had the 'Roland treatment', including a fridge, games machine, mini motorbike and helmet, drum kit, piano, skis, skateboards, wedding albums, 3D printed functional parts and a sailing boat!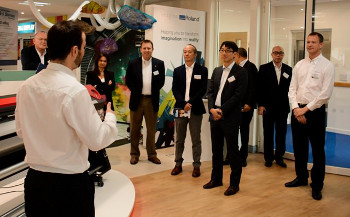 Roland DG Creative Centre Manager, Joe Wigzell, conducting a tour of Roland DG UK's new Academy and Creative Centre With dedicated service and support areas, the new Roland DG HQ houses the RolandCare team and a high-spec Roland Academy training facility which offers a programme of practical technical courses and business bootcamps throughout the year. Davies says the new head office will provide Roland DG with the perfect foundation from which to continue to build its business in the coming years.
"We've been eagerly awaiting the official launch of our new head office and I'm very proud of the team and the work they've put in to get us to this great day," he added. " It's a fitting tribute to all their hard work to not only have our global president here for the opening, but also representatives from Roland offices from across the world.  This truly is an outstanding facility and one we believe to be unique in the industry in terms of both its size and scope of what it offers customers. We look forward to welcoming visitors to our new home."
A full schedule of open days and training events, giving customers the opportunity to experience the Creative Centre, will be announced shortly. Visits can also be scheduled by request at any time.
www.rolanddg.co.uk
You can Tweet, Like us on Facebook, Share, Google+, Pinit, print and email from the top of this article.