Investment made to enable communications specialist to deliver greater value to brands and end-consumers.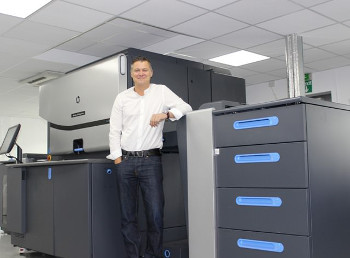 Jon Bailey with ProCo's new HP Indigo 7800 Digital Press which will allow the company to deliver innovative applications to its customers that will really add value to their businessesHP has just announced that Sheffield-based communications specialist ProCo has installed the UK's first HP Indigo 7800 Digital Press. The company said that using new technology such as Enhanced Productivity Mode, its latest digital press will improve ProCo's up-time and efficiency. In addition, HP pointed out that the press's versatile capabilities for high-end, high-value applications will offer ProCo the opportunity to explore new market potential. 
With a turnover of £11m and 110 employees, ProCo is considered one of the UK's leading print and communication specialists, offering a wide range of services to help its clients integrate their marketing communications.
"Over the last few years, we have invested in the technology and the skillset to deliver automated marketing platforms, loyalty programmes and data-driven communications as an enabler for print and, as their adoption gains momentum, we have a very real need for more print production capabilities," said Jon Bailey, Managing Director at ProCo. "The HP Indigo 7800 Digital Press is the first investment of our new financial year, kicking off an exciting period of growth and development for ProCo. More importantly, this new platform will allow us to deliver innovative applications to our customers that will really add value to their businesses."
The HP Indigo 7800 offers direct printing on synthetic substrates with One Shot Colour technology, a feature which enables print for high-value applications such as plastic cards, overlays, lenticular applications, point-of-sale and premium postcards. The press supports HP Indigo ElectroInk Digital Matte for spot coating effects on glossy substrates in addition to other special inks, including HP Indigo ElectroInk Invisible Red and Light Black. It also boasts unique special effects including raised print, textured effects and digital water marks across thicker substrates of up to 400gsm.
ProCo's ten years of investment in HP technology has included early adoption of the HP Indigo 3000 in addition to beta testing for the HP Indigo 5000, 5500 and 7500 Digital Presses, a strategy designed to reinforce the company's on-going commitment to providing customers with state-of-the-art digital printing technology.
"ProCo's continued commitment to innovation further strengthens the company's position at the forefront of digital technology," continued Bailey. "Not only does the HP Indigo 7800 Digital Press maintain the highest possible productivity through proven quality, versatility and breakthrough intelligent automation, but its special printing capabilities expand digital applications, enabling us to address new markets."
More information is available at www.youtube.com/hpgraphicarts or follow HP on www.twitter.com/hpgraphicarts
You can Tweet, Like us on Facebook, Share, Google+, Pinit, print and email from the top of this article.
Copyright © 2014, DPNLIVE – All Rights Reserved.