New arrivals at the MTEX UK Digital Textile Printing Demo Centre.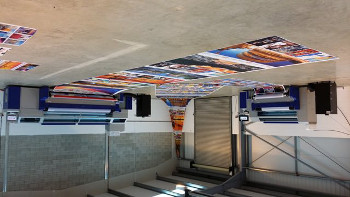 The new MTEX Technologies Demonstration Centre Two new digital textile printers were installed last week at their new home in the MTEX Technologies Demonstration Centre on the Derbyshire and Leicestershire border in the UK. These are the first in a suite of dedicated textile solutions being installed in MTEX's new base, designed for UK and Ireland demonstration and testing for the sign and display market, as well as the home textile and fashion industries.
The company commented that unlike many print solutions in the sign market that were developed for production banner and vinyl printing with temporary textile printing capabilities, MTEX only manufactures dedicated digital textile printing & finishing equipment and they understand the process from fibre to fabric.
MTEX was founded just outside Porto in Portugal, considered the traditional centre of European textile trade at Santo Tirso and has benefited from the skills and heritage that can only be found in that part of the world. The founders Eloi Ferrira and Marco Sousa and managing director of MTEX Technologies in the UK Stewart Bell, all have many years' experience in the wide format print and imaging market which they believe gives them a very strong understanding of what true digital textile printing can achieve for sign and display graphics companies today.
Stewart Bell commented; "We are delighted at the arrival of the first two printers in our demonstration centre – the MTEX 1800 and the MTEX 5032Pro. They will be followed by the MTEX TurboSub and MTEX 500C for fashion fabrics later in the year. The MTEX PAD, Steamer and W&D are also being prepared for shipment to the UK so companies with a need for pre-coating fabrics, steaming and post-print washing & drying will be able to put them through their paces. When all the machines are in, we will have the most comprehensive demonstration suite of direct-to-textile digital printers in the UK. It's a very exciting time to be involved with digital textile printing and it is our aim to help sign and display makers and creators, interior designers and fashion houses to harness the power of digital using our equipment and bolster the strong and lasting heritage of textile printing in the UK."
About the printers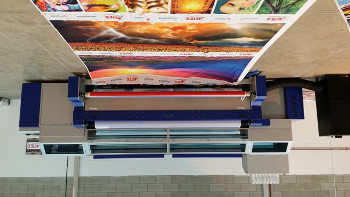 The MTEX 5032Pro The MTEX printers use direct disperse inks which all have in-line heat fixation that only kicks in when you are printing and within a metre, the colour is revealed as it uses a single path method. MTEX maintains that this feature is unique since there is no need to keep it hot like traditional calendars, using up energy and money even if it is not in use. It added that because of the nature of direct to textile all-in-one printing and fixation, there's no waste dye-sub or protection paper involved and the potential for spoilage or damage is virtually nil.
The MTEX 1800 was the first to be installed at the centre. It's aimed at medium sized display graphic and home textile companies looking for a machine that will print dedicated textiles with punchy colours. It is 1.8m wide and prints high quality vibrant colours at up to 48 m2/h and has a 2 litre bulk ink system for continuous printing. The printer is built to industrial standards as an integrated one-footprint unit with integrated workflow.
The MTEX 5032Pro has also been installed ready for demonstration and customer testing. This machine is a 3.2m wide direct-to-textile printer with integrated fixation and runs at 58 m2/h. It is the second-generation version of the 3.2m wide MTEX 5032 which MTEX said has a proven track record in the direct-to-textile printing industry in Europe. Different fabrics can have varying tensions across the roll, so MTEX developed an electro-pneumatic feeding system that handles the challenges inherent with printing onto textiles with ease, and prevents errors occurring during the print process. The feed and take up system has compressed air shafts which can now handle bigger and heavier rolls of material than the previous model and is married with the un-interrupted bulk ink feed system for continuous printing. MTEX is marketing this printing solution as the ideal device to enable users to produce a wide range of fabrics for a huge variety of applications including soft signage, interior displays, home textiles, flags, retail point of sale, lightboxes and much more.
Follow us on Twitter - @DigiPrintNews
Like us on Facebook www.facebook.com/DPNLive - (click the 'LIKED' button/top of page as well)
Copyright © 2014, DPNLIVE – All Rights Reserved.