New Mimaki JV5-320DS dye sublimation printer installed.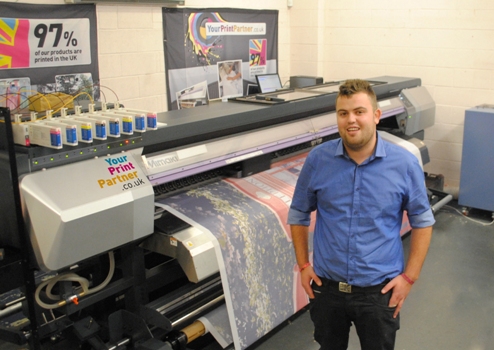 Your Print Partner's Stuart Maclaren with the company's new Mimaki JV5-320DS UK based Your Print Partner has installed a new Mimaki JV5-320DS dye sublimation printer on the back of reporting positive signs of growth and a general upturn in business. Located in Lincoln, the company had seen an increase in demand, and with an ever expanding product range, it found it necessary to add to its already impressive production armoury.
Originally operating as a print management company, Your Print Partner has been digitally printing banners, flags and outdoor branding products since 2012 when the company purchased its first Mimaki direct-to-textile printer. Fast forward to today, and Your Print Partner is now operating with nine state-of-the-art print machines, including PVC printers and CAD cutters. Its range of products has grown to over 200 different items, many of which are printed in-house.
Buoyed by this success and with a clear vision for the future, the company decided to invest in a new Mimaki JV5-320DS dye sublimation printer, capable of printing on 3.2m wide rolls of fabric. Key to the investment was improving efficiency, decreasing set up times and reducing fabric wastage, criteria that it said the new printer met, optimising the potential for new product development and which now brings the company's annual print capacity up to 250,000m2.
Commenting on the recent advances, Managing Director of Your Print Partner, Stuart Maclaren said; "This is a really exciting development for our business. One of our most popular products is Feather Flags, which you might typically see at sporting events or on car forecourts. With the new Mimaki – now the largest in our building – we have the potential to print more than 1,000 additional flags every week. This really opens up many more new opportunities for us and enables us to compete on much larger tenders."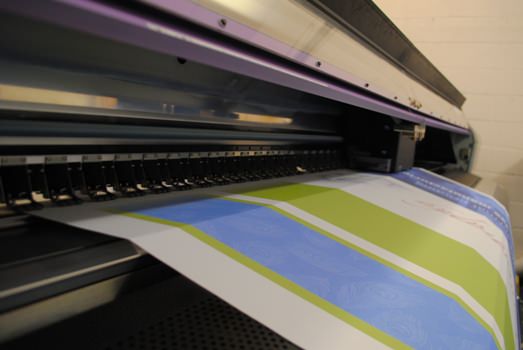 Your Print Partner's new Mimaki JV5-320DS dye sublimation printer in action Your Print Partner has been supported throughout the purchase and installation by its Mimaki reseller, R A Smart of Bollington, Cheshire; themselves one of the UK's leading exponents of digital textile printing. Magnus Mighall, of R A Smart explained, "We've had the pleasure of working with Stuart and his team for a number of years and it's been a delight to see how the business has flourished. Clearly their new investment has shown a real confidence in the peerless performance of Mimaki equipment."
The team at Your Print Partner has been busy developing a new range of display products due for release early in the New Year and all intended for production on the new JV5-320DS printer, utilising its 'super-wide' print capacity to create what it terms as 'seamless large-scale graphics' for exhibitions and trade shows. "Images, specifications and prices for the new product range will be revealed on our website very soon." says Maclaren. "The sheer capability of the new Mimaki makes it a key element of our growth strategy and as a result of the increased capacity it brings to the company; we expect to create five new jobs over the winter period in our Pre-Print, Sales and Customer Service departments."
Useful links
Your Print Partner - http://yourprintpartner.co.uk/
R A Smart - http://www.rasmart.co.uk/
Hybrid Services - http://www.hybridservices.co.uk/
You can Tweet, Like us on Facebook, Share, Google+, Pinit, print and email from the top of this article.
Copyright © 2014, DPNLIVE – All Rights Reserved.