Attractive Mimaki JFX200 packages from Hybrid now available.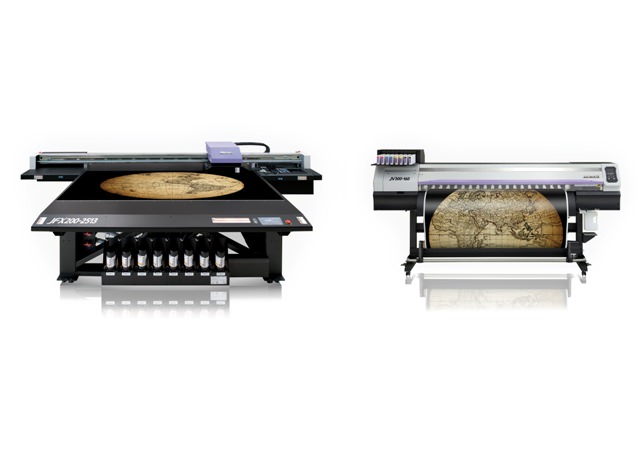 Mimaki's JFX200 and JV300 is already proving a popular and productive combination with customersAn interesting promotion has been launched by Hybrid Services Ltd; Mimaki's exclusive distributor for the UK and Ireland, to encourage potential grand format flatbed investors to think a little more outside the box by exploring the benefits of pairing the new JFX200 LED UV flatbed printer with selected Mimaki 1.6m solvent, latex or SUV roll-to-roll printers at a special price.
The JFX200 boasts a high combination of quality, speed and value and its flatbed format means that it is ideally suited to the production of rigid display boards, packaging and exhibition panels. Mimaki roll-to-roll printers on the other hand are the perfect tool for producing complementary flexible graphics such as banners, posters and vehicle liveries in high volumes and using a choice of ink types. Combined with each other – and offered at an attractive package price from Hybrid – the company maintains that the solution delivers more than the sum of its parts.
Commenting on the proposition; national sales manager – industrial products for Hybrid, Stuart Cole said, "Mimaki is in the unique position of being able to offer a solution that delivers all the benefits of each machine with the workflow and software synergies found when dealing with one manufacturer. With both machines running in tandem; production print houses and sign and graphics professionals can meet the wide and varied demands of individual customers with ease, as well as generating new revenue streams."
"The productivity gains of running two machines plus the ability to tap into the state of the art features of two dedicated printing powerhouses should serve our customers perfectly," he continued.
Hybrid's special package offer provides the opportunity to pair the 8' x 4' flatbed JFX200-2513, which features low running costs, latest LED UV technology and great eco credentials with a choice of selected 1.6m Mimaki solvent, latex or SUV roll-to-roll printers including the brand new JV300, at a saving of up to £5,995 on the normal retail prices of the individual machines when purchased separately.
"With two different types of wide format print technology in their arsenal; professional sign and graphics producers now have the opportunity to expand their business horizons by meeting customer demands ever more effectively, with better productivity and profitability as the ultimate prize," concluded Cole.
More details of the offer can be found on the Hybrid Services website; www.hybridservices.co.uk/explore
You can Tweet, Like us on Facebook, Share, Google+, Pinit, print and email from the top of this article.