Company to showcase European premiere of three new printers.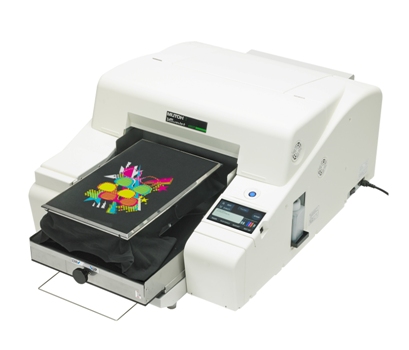 Mutoh-ValueJet-405GTAt Fespa 2015, Cologne, Germany, from 18-22 May, (Mutoh's booth in Hall 6, T30), wide-format printer manufacturer MUTOH has confirmed that it will unveil three new printers: ValueJet 405GT, a desktop direct-to-garment printer, ValueJet 1628X, a 64" (165 cm) wide 8-channel Eco Ultra printer with white & metallic inks and ValueJet 1938WX, a 1900 mm (75") wide dye sublimation printer.
Alongside these new products, Mutoh will display its entire ValueJet printer range for Sign & Display applications and the new Mutoh RJ-900XG dye sublimation printer.Visitors will also be able to see the Mutoh LED UV printer range for specialty/industrial applications, i.e. the VJ-426UF and VJ-1626UH, which recently won respectively the International Sign Expo's Best New Product Award and the Wide-Format Imaging 2015 Top Product Award in the US.
Mutoh will also have its own booth at the Fespa 2015 Printeriors zone (Hall 9, booth Z105) and will take part as a sponsoring partner in the Fespa Wrap Hub (Hall 6, T85).
European Premiere of Three New Mutoh Printers
The ValueJet 405GT is Mutoh's first ever desktop direct-to-garment printer. This five colour (CMYK + White) engine has been specifically developed for direct printing on, t-shirts, caps, canvas bags, etc.
It's being marketed as offering high print quality, compact, with a wide print area and an easy-to-use LCD touch screen. The printer can be equipped with different sizes of interchangeable print platens.
Mutoh's water based pigment direct textile inks for the VJ-405GT will allow printing onto high cotton blends and 100 per cent cotton garments.
The new ValueJet 1938WX is a 75" (191 cm) wide high speed printer suited for both digital transfer and direct printing on polyester-based fabrics. The VJ-1938WX is the wider version of Mutoh's VJ-1638WX model launched early 2014. Suitable for for production oriented customers, the printer features two piezo drop-on-demand print heads mounted in a staggered configuration. This new printer model is specifically suited for digital production of home textiles, high quality deco fabrics, fashion as well as sportswear and soft signage.
The ValueJet 1628X is Mutoh's first 64" (162.5 cm) wide ValueJet Eco Ultra printer model offering white and metallic ink capabilities. Developed for sign and display applications, the product is specifically targeted at starting or established digital print businesses looking for a high quality wide format printer with the ability to create long term outdoor applications offering CMYK and specialty white and metallic inks for premium finishes and special effects.
Mutoh at Fespa Printeriors & Fespa Wrap Hub
Mutoh will also have a booth at the Fespa Printeriors zone (Hall 9 – Z105). Visitors will be able to see a wide range of interior decoration applications & creations made with various Mutoh ValueJet printers.
As sponsoring partner of the Fespa Wrap Hub (Hall 6 – T85), Mutoh will demonstrate the power of its ValueJet series for professional wrapping applications. The best wrappers from around planet world will compete there for the title of Fespa World Wrap Master 2015. Contestants will wrap with prints made on 3M® vinyl by a Mutoh ValueJet 1638X loaded with Mutoh Universal Mild Solvent inks. The Fespa Wrap Hub will also stage a Mutoh VJ-1638X dual head printer producing high quality wrap prints.
About Mutoh's LED UV printers at Fespa
At Mutoh's booth, Fespa vistors will see live demonstrations of the Mutoh's LED UV printers. The ValueJet VJ-426UF is a compact A3+ flatbed 6-colour LED UV printer with integrated vacuum table, offering a print table area of 483 mm (19") x 329 mm (13"). VJ-426UF enables direct printing onto objects up to 70 mm (2.75") thick. The ValueJet 1626UH is a 64" (165 cm) wide hybrid LED UV printer for direct printing on a wide variety of rigid and flexible materials.
http://www.mutoh.eu
You can Tweet, Like us on Facebook, Share, Google+, Pinit, print and email from the top of this article.
Copyright © 2015, DPNLIVE – All Rights Reserved.