Investment made to multiply capacity at company.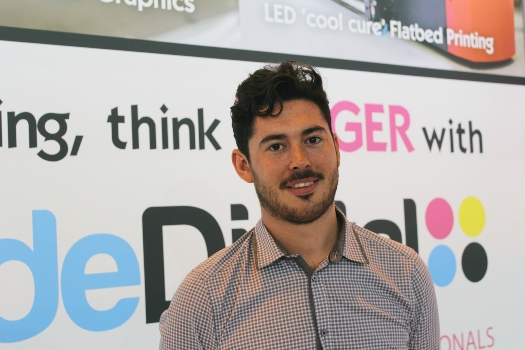 Luke Drogan, business development manager at SuperWide Digital, now has all the right equipment to meet his customers' expectationsIt's been reported by EFI that British trade-only printer SuperWide Digital has invested in two VUTEk® machines to increase production capacity and support its expansion into new sales areas. It purchased a VUTEk GS3250LX Pro 3.2m wide-format flatbed and roll-fed LED-curing printer in March 2013, and the UK Company has reported that it has benefitted so extensively from this investment that it has doubled up by buying a second unit: a VUTEk GS5500LXr Pro five-metre roll-to-roll LED-curing machine, which will now headline its super-wide format production. This second investment is a further demonstration of SuperWide's confidence in EFI.
The purchases are integral to a phase of significant expansion at the Manchester, UK-based print house, which sells only to the trade and is reputed for its reliability, speed of turnaround and confidentiality. These it said were also the main reasons behind SuperWide's decision to expand its relationship with EFI, following on from the success of its original investment in the VUTEk hybrid LED printer. The second iteration of this machine features a heavy-duty winder/unwinder to allow it to handle bulkier materials, such as the durable floor graphics SuperWide is now pioneering in the UK market.
The SuperWide team first saw the five-metre, roll-to-roll VUTEk with UltraDrop Technology from EFI in November 2014 and were impressed that it represented the company's next step for super-wide format production. The printer's up-time and the flexibility of EFI's 3M-cobranded SuperFlex UV ink combine with its 7-picolitre print-heads provided the blend of performance and quality SuperWide required, while low operating costs was another key feature, improving profitability during its phase of investment and growth.
"SuperWide prints a huge variety of display work for thousands of customers around the UK, and for many we provide the vital missing piece to make an order come together," explained Luke Drogan, business development manager at SuperWide Digital. "There's no fall-back for us, so we need to have the right equipment to meet our customers' expectations, and their deadlines, time after time. The reliability of the two VUTEk machines and EFI's accessible and supportive approach gave us the confidence that this was the right choice for SuperWide."
"When you're producing work for your customers' customers, there's very little margin for error," added Paul Cripps, general manager of EFI EMEA. "SuperWide's decision to pick VUTEk twice is a vote of confidence from one of the UK's largest print operations, and EFI will be there to support them every step of the way."
With a portfolio as varied as vehicle graphics, banners, graphic flooring, soft signage and digital wallpaper, SuperWide prides itself on producing high-quality printed output that its clients can sell on as their own. Its services include design, artwork checking, print production and a full finishing and delivery service, plus installation. SuperWide believes that its dedication to providing a behind-the-scenes trade-only service is the reason behind its popularity with customers and continued success.
http://www.superwide.com/
www.efi.com