Canon makes first UK installation of the Océ Arizona 6160 XTS flatbed printer to Contract Sign Systems Ltd.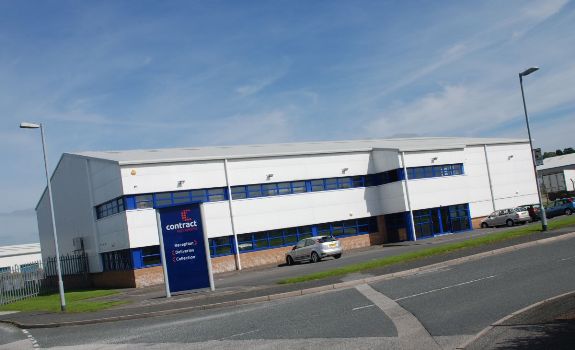 Contract SignsA leading UK and European sign solutions specialist, Contract Sign Systems, has signalled its intention to considerably increase its production capacity in addition to diversifying its service offering by becoming the first UK-based company to invest in Canon's ultra-high production Océ Arizona 6160 XTS wide format flatbed printer.
The Cornwall-based company – specialising in parking, town, street and prohibitive signage, as well as offering other commercial applications – required a technology that was capable of producing higher volumes of applications with a faster turnaround. The package comes with a Zünd G3 digital cutting table to create new shapes for bespoke signs, something which will enable the company to enter new markets such as trade signage and retail.
"The core of our business is car park signage, which regularly needs replacing," explained Leroy Fox, Sales Director, Contract Sign Systems. "Car park operators adjust their prices and change their contractors frequently, which means replacing the signage accordingly. As a result, we have to be flexible to adapt to this demand. We reviewed our manufacturing procedures and recognised we needed to improve efficiencies and deliver to tighter turnaround times. Some of our customer orders have to be delivered within 24 hours."
Since 2011, a large proportion of Contract Signs Systems' work has been produced by Canon's Océ Arizona 550 XT wide format printer. "The Arizona 550 XT is an excellent machine and has been a key driver in growing our business and establishing us a leader in the European and UK sign markets," added Fox. "The output quality, substrate flexibility and production reliability of the Arizona technology has become the cornerstone of our production line. We want to develop that further and add speed and application versatility into the mix."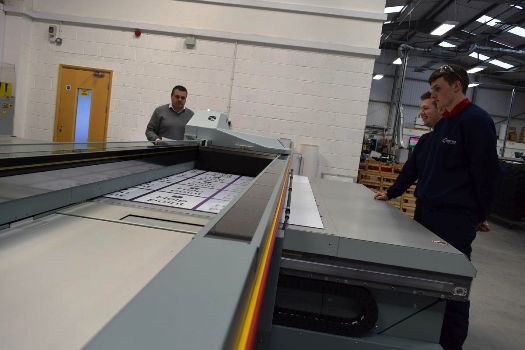 Leroy Fox, Sales Director of Contract Sign Systems (left) and two employees watch the new Océ Arizona 6160 XTS in action Despite investigating what was available on the market, Contract Signs Systems decided to opt for Canon's latest flatbed proposition – the 6-colour Océ Arizona 6160 XTS. "The sheer speed, quality and reliability of the Arizona 6160 XTS – complemented by the value of the training and sales service we'd experienced with Canon following the purchase of the 550 XT model – made the decision a no-brainer. The high-flow vacuum system was also a major factor, as a lot of our work is produced with aluminium composite. The investment will enable us to increase and improve efficiencies, enhance productivity and help expand our UK and global operations."
Canon launched its new Océ Arizona 6100 Series – which also comprises the 7-colour 6170 XTS model – at FESPA Digital 2014 in March 2014. Capable of speeds of up to 155m2/h, the new series gives the high volume rigid printing market access to the Arizona's print quality, application versatility and ease of use for the first time. The Arizona 6100 series features the high-flow vacuum system, automated print head maintenance, pneumatic media registration pins and two independent printing zones for non-stop printing. The Zünd cutting table provides highly accurate, automated in-line cutting for consistent finishing of new shapes on a range of substrates.
"The Arizona 6160 Series was developed with customers such as Contract Sign Systems in mind," commented Duncan Smith, Wide Format Printing Group Director, Canon UK. "Building on the Arizona's superior output quality, this series focuses on business-changing productivity also. It's a real enabler for powerful growth and application versatility. Contract Sign Systems has carved out a profitable business niche through its dedication to a quality end product that is produced and delivered efficiently. This investment takes the company to the next level and we're looking forward to working with the team there to see their business flourish even further."
For further information about Canon UK please visit
http://www.canon.co.uk/
You can Tweet, Like us on Facebook, Share, Google+, Pinit, print and email from the top of this article.
Copyright © 2015, DPNLIVE – All Rights Reserved.