New Mimaki CJV150 install made to diversify product offering to market.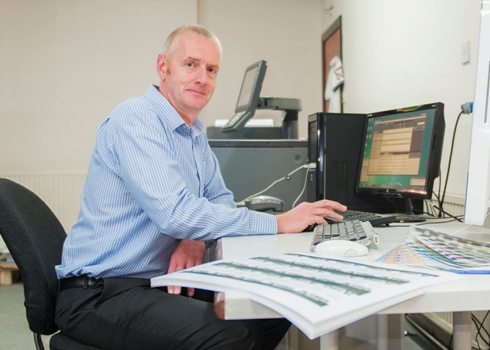 Kaymar Print's Mark Brindle UK based Kaymar Print, located in Preston, has become one of the first print businesses in England to install the new Mimaki CJV150-107 integrated printer/cutter. The purpose of the investment is to enable it to diversify its already vast offering to customers.
While everyone in the wide format sector appreciates the sheer versatility and opportunities offered up by digital print, outside this sector, there is perhaps less recognition of the benefits and certainly as far as the customer or the general public is concerned, much is taken for granted.
Kaymar Print has adopted a rather more open-minded approach, in its determination not to let the 'grass grow under its feet'. Originally established in 1946, the company remains a privately owned printing service under the management of Mark Brindle, who has retained key personnel with many years of printing expertise. Boasting the ability to provide amongst other things, both litho and screen print services, Kaymar has pretty much every print requirement covered, but is equally keen to stay ahead of the game by employing state-of-the-art technology to complement these more traditional skills.
Brindle commented that he is particularly proud of this latest investment, which sees the business steal a march on many of its competitors by becoming one of the very first to install a new Mimaki CJV150-107, as he explained; "With almost seven decades of experience in the print industry we've developed considerable levels of expertise in a wide range of different print processes, many of which have become a long forgotten skill set for other similar businesses. However, we're always looking for new and exciting ways to diversify and to offer our customers more interesting and creative solutions to their requirements."
This ethos had seen Kaymar take an early foray into digital print with a couple of Konica sheet fed machines running both mono and colour. However, the company always had an eye on the speed of development in the sector and was very keen to add to its print arsenal when the new Mimaki was first launched. As Brindle added; "The team at Granthams in Preston were particularly helpful in explaining the individual benefits of various different machines, but the CJV150-107 just stood out as the perfect tool for our needs. The ease with which it can produce banners and large format posters of the very highest quality is simply amazing. Its speed and accuracy makes this a brilliantly effective piece of kit which is both productive and highly profitable. Its versatility is quite awesome and its print and cut capability also enables us to produce PVC labelling and self adhesive stickers for our customers with real ease."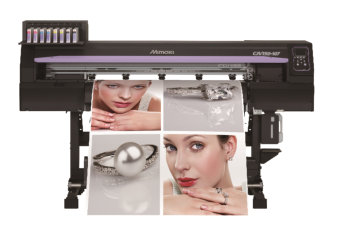 The Mimaki CJV150-107 Kaymar has developed a very diverse mix of different customers over the years from sole-traders right through to large corporate businesses and public sector organisations. The company's development into high quality digital print has also opened up new revenue streams, by being able to produce items as diverse as large format signage and reflective road safety signage. As Brindle concluded; "As a commercial print supplier we need to continually raise our game, building on our wealth of traditional print expertise by taking our offering to new, more creative and productive levels. The CJV150-107's combination of speed, quality, and multiple functionality, including print and cut, all in one neat package, has proved a real winner for Kaymar and we're really proud to be one of the first businesses in the country to have taken delivery of one of these fantastic machines."
For further details contact:
Kaymar Print Limited:
www.kaymarprint.com
P: 0044 (0) 1772 562211 (Mark Brindle)
Granthams Graphic Technology:
www.granthamsgt.co.uk
P: 0044 (0) 1722 250207 (Sue Hayward)
You can Tweet, Like us on Facebook, Share, Google+, Pinit, print and email from the top of this article.