MPS Bristol heralds first UK installation of Domino's N610i 7-Colour label press.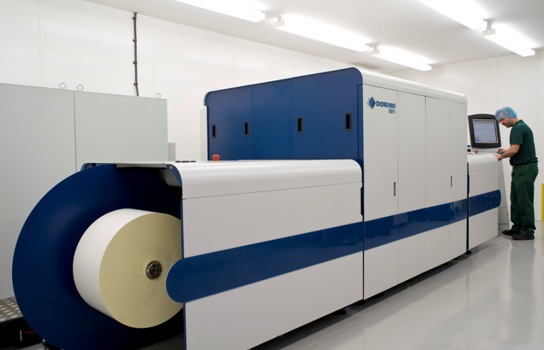 Domino N610i 7-colour UV digital ink jet label pressMulti Packaging Solutions (MPS) Bristol has installed the first UK Domino N610i 7-colour UV digital ink jet label press. The company is an award-winning supplier of self-adhesive labels to a wide range of markets and made the purchase as a result of a major investment programme at the site.
Andy Walter, Managing Director at MPS Bristol, explained how he wanted to capitalise on the evolving digital print technology and acquire a system that would visibly enhance his company's label offering. "More of our customers want the flexibility of digitally printed labels, but naturally don't want to compromise their brand with an inferior product," he says. "After a thorough analysis of the developments in the digital press market, we realised Domino's 7-colour N610i label press represented a significant step forward both in terms of technology and operational excellence."
He continued: "Not only does the system's quality of print and strength of colour enable customers to manage their label requirements more effectively; it also allows them to maintain their brand integrity, which remains a key priority. These benefits made the purchase of Domino's N610i an easy decision.
"This new press will challenge designers, brand managers and marketers to push the boundaries and build personalisation, variable data and more focused promotional offers into their clients' labels."
The N610i operates at speeds of up to 75 metres (246ft) per minute with a 600dpi native resolution and is available in up to 7 colours. Domino said the wide colour gamut afforded by the 7 colours makes it an ideal choice for brand owners when combined with triple the print speed of conventional 7 colour toner based digital systems. It added that the highly opaque white ink which delivers a silkscreen-like finish is ideal for printing solids through to fine detail onto metallic and clear label materials.
Jon Pritchard, Product Manager at Domino's Digital Printing Solutions Division, commented: "The latest generation N610i label press is the product of Domino's close collaboration with its customers to identify features that would strengthen our digital print offering. The end result is a system that allows businesses like MPS to further improve their services to their customers by exploiting new applications, while at the same time being able to reduce production costs."
He added: "We are delighted MPS is our first UK customer to invest in the 7-colour N610i. Thanks to this innovative system, the company will be able to differentiate itself with a broader range of creative applications, which will capture the imagination of their customers in all sectors of the label market."
For further information on Domino, please visit www.domino-printing.com
You can Tweet, Like us on Facebook, Share, Google+, Pinit, print and email from the top of this article.