New Mimaki helps Lustalux meet surge in demand for graphics.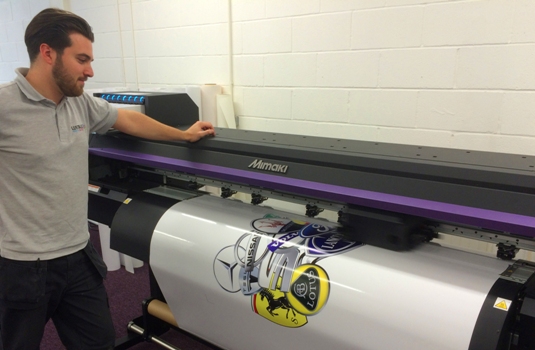 Lustalux's Sign & Graphics Assistant, Jonny Borg with the company's new Mimaki CJV300 printer/cutterUK based Lustalux, located in Preston has recently added a Mimaki CJV300-160 printer/cutter to its machine line-up as part of its ongoing expansion plans and in response to increased demand for wide format print. The window film and commercial graphics company has recently also enlarged its business premises, taken on new staff to ensure its service offering remains high for clients new and old.
"The business has gone from strength to strength throughout 2015," said Richard Lancaster, Director of Lustalux. "Due to an increase in client wins, we were struggling to keep up with the surge in demand for printed graphics, murals and wallpaper. By investing in the new Mimaki CJV300 wide format printer, we've excelled our service offering which means we can continue developing towards becoming a leading UK provider of graphics and signage."
Purchased through authorised Mimaki reseller, Granthams; the CJV300 sits at the head of Mimaki's integrated printer/cutter range and is capable of delivering high quality outdoor durable print at speeds of over 100 m2/h onto vinyl, banner, canvas, paper and other substrates. With a print width of 1.6m and running Mimaki's SS21 low solvent inks, Lustalux is now utilising the CJV300's high quality of output to expand its portfolio.
"The new Mimaki has replaced our previous eco-solvent printer/cutter and was chosen because it offered us a higher standard of quality and detail," cites Lancaster. "It came highly recommended to us, although we already recognised Mimaki as the market leader."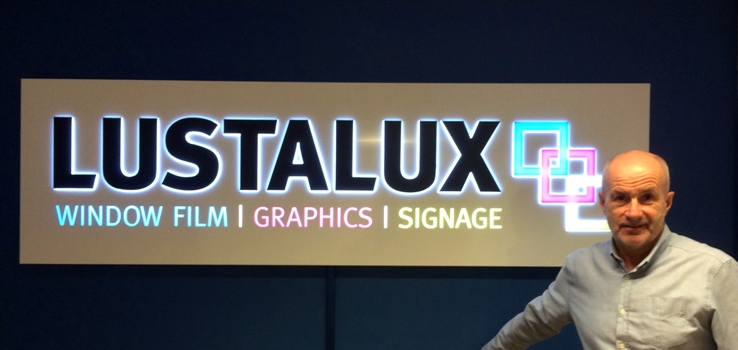 Richard Lancaster, Director of LustaluxIn addition, doubling the company's office space has afforded Lustalux the opportunity to deliver new products for its blue-chip client base, as it serves both trade print and direct accounts.
"We work closely with the education sector, but also supply graphics to some household brand names," Lancaster stated. "We're now perfectly placed to be able to offer not only our core window and wall graphics but also new products such as vehicle liveries and event branding."
"It came highly recommended to us, although we already recognised Mimaki as the market leader."
The appointment of new personal match Lustalux's increase in premises and print capacity, with staff added in a number of hands-on roles in the studio and print room and Lancaster summarises his satisfaction about the company's expansion, "It's extremely rewarding to see how far the company has come since it was formed over 24 years ago and to have such a high calibre of skills in-house."
Further information on the company's products can be found by visiting www.lustalux.co.uk
You can Tweet, Like us on Facebook, Share, Google+, Pinit, print and email from the top of this article.
Copyright © 2015, DPNLIVE – All Rights Reserved.