MTEX appoint Hybrid Services Ltd to distribute the new MTEX Blue direct-to-polyester printer.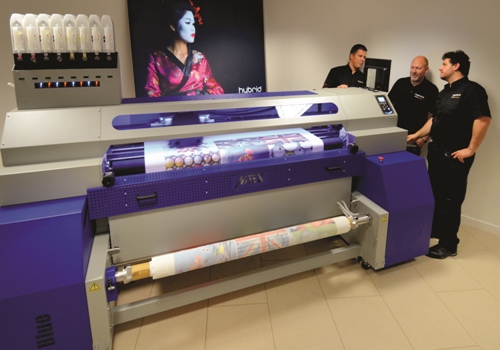 Hybrid's National Sales Manager – Textile & Apparel, Stephen Woodall and Service Engineers Mike Parker and Gabriello Gambale with the MTEX Blue printer
Digital textile printer manufacturer, MTEX Solutions, has just confirmed the appointment of Hybrid Services Ltd as sole distributor for the new MTEX Blue dye-sublimation printer in the UK & Ireland.
The MTEX Blue with disperse inks for dye-sublimation was launched earlier this year and, like all MTEX digital textile printers, has heat fixation in-built, so print and heat fixing (sublimation) is completed in one smooth process, eliminating the need for a separate calendar. As an all-in-one solution, the MTEX Blue with disperse inks and in-line fixation will print and finish at a speed of 55m2/h and will retail in the UK at £44,950 plus VAT.
Hybrid Services Ltd is the exclusive Mimaki distributor in the UK & Ireland and its appointment is expected to have a big impact on the sign & display market bringing greater access of this affordable all-in-one solution to the market.
Eloi Ferreira, CEO of MTEX Solutions said, "Hybrid is the UK home of Mimaki, and MTEX is proud of our world OEM agreement with Mimaki Japan. Therefore it made perfect sense to appoint Hybrid with their range of professional resellers to continue to grow the MTEX install base in the sign & display, home furnishing and apparel markets."
With the growing demand in the market for digital textile printing, the MTEX Blue is billed as offering superb quality at great speeds with punchy, vibrant colours and in-line fixation.
The MTEX Blue is a direct-to-textile polyester fabric printer with four CMYK Panasonic heads with variable drop and adjustable head height to accommodate different thicknesses and types of fabrics and prints up to 1080dpi. The machine is designed for printing applications such as flag, front-lit and back-lit display, events and exhibitions and all soft signage applications as well as materials for interior soft furnishings and fire-retardant polyester fabrics.
Phil Thomas, director at Hybrid Services Ltd commented, "We're very pleased to be able to offer the MTEX Blue printer through our specialist textile resellers. With award-winning Mimaki technology at the heart of the system, the printer is an ideal option for companies looking for a turnkey textile solution."
Discussing the virtues of the new printer, Thomas highlighted a key feature; "The MTEX Blue benefits from Mimaki's latest state-of-the-art print engine technology which allows the head to be set at a greater height to cope with the varied nature of direct to textile printing.
"Hybrid is perfectly placed to help companies looking at taking their next steps in textile printing to get the most from the MTEX Blue, thanks to its network of specialist textile resellers, decades of wide format textile printing experience and substantial support and backup operation."
The Blue offers a true fabric printing solution with no compromise to the integrity of the material after continuous use. With disperse dyes the inks are essentially 'bonded' into the fibres through the heat fixation (sublimation) process and so users can wash the fabrics, fold, handle and re-wash if needed, with absolutely no degradation of the image.
Bruising, marking, creasing and cracking are eliminated due to the image becoming part of the fabric compared to sitting on top of it, as with most other sign and display printers.
Stewart Bell, MD of MTEX Technologies UK said, "We're delighted to appoint Hybrid as distributor in the UK for the MTEX Blue product. This machine is the perfect all-in-one solution for numerous markets including sign & display, interiors and fashion and at a price: performance level never seen before. MTEX is leading the global digital textile print market.
"We're very happy that the Mimaki reseller channel is now able to offer the MTEX Blue to their customers via Hybrid, this can only mean that printers have better and more flexible solutions to offer their target markets, than ever before."
You can Tweet, Like us on Facebook, Share, Google+, Pinit, print and email from the top of this article.
Copyright © 2015, DPNLIVE – All Rights Reserved.