Winner of 'Roland Apprentice of the Year' Award Announced.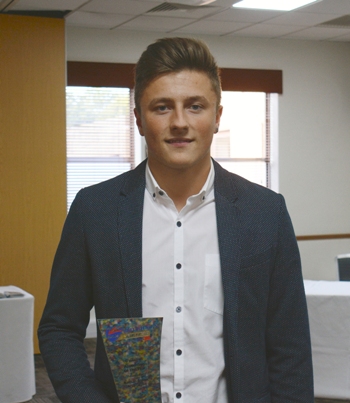 Nathan Aston, winner of the Roland DG Apprentice of the Year award Nathan Aston has been awarded the accolade of''Roland DG Apprentice of the Year', as he fought his way to overcome tough competition to triumph at this year's BSGA British Sign Awards.
The 'Roland DG Apprentice of the Year' award recognises sign making apprentices who have made outstanding progress in their academic and learning achievements, as well as a real contribution to their employer's business.
Nathan was nominated for the award by his employer, Ast Transport Branding, for exceeding its expectations and demonstrating initiative, enterprise and creativity throughout his apprenticeship.
After being shortlisted for the award, the 18-year-old was rewarded with the title of 'Roland DG Apprentice of the Year' at the recent BSGA Awards Presentation gala event, which was held at East Midlands Conference Centre in Nottingham. He said:
"It was great to win this award – I've been working as an apprentice for a year and a half at Ast Transport Branding, and really enjoying the responsibility and skills I've been learning. I'm very proud to have won."
As one of the UK market's leading manufacturer of wide format digital printers, Roland DG commented that it was delighted to have sponsored the 'Apprentice of the Year' award and is committed to supporting young and emerging talent from the sign industry.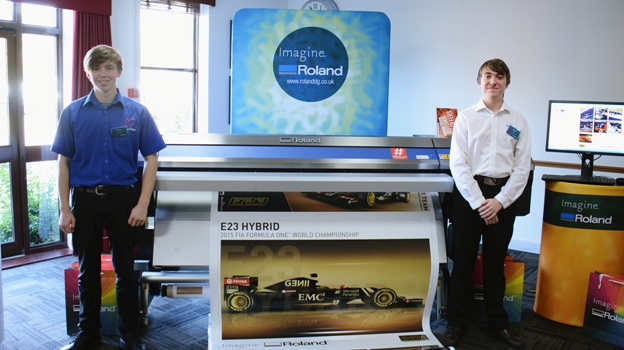 Roland DG's apprentices, Nathan Gelder and Jordon Lewis, stand either side of the PRO-4 XR-640 at the BSGA awards To congratulate Nathan, Roland DG has awarded him with a complimentary seat on a Roland DG Academy course of his choice at the Clevedon or Walsall training centres.
"Speaking about the BSGA British Sign Awards 2015, Brett Newman, Managing Director for Roland DG (UK) Ltd, said: "We've had a great day at the awards, and it was a brilliant learning experience for our own apprentices –we brought both of them along for the day to experience the event and help run our PRO-4 XR-640 wide format print-and-cut machine, which was on display prior to the ceremony, and they did fantastically.

Alongside Roland DG's apprentices, Kai Perry, Technical Support Supervisor, and Brett Newman, MD, attended the awards "On behalf of everyone at Roland DG, I would like to congratulate Nathan Aston on winning the award for 'Roland DG Apprentice of the Year' and we look forward to welcoming him onto a Roland DG Academy course soon. The apprentices nominated for this award demonstrate the abundance of young talent that is emerging within the sign industry and we are delighted to work alongside the British Signs and Graphics Association to acknowledge and celebrate this."
Roland DG has long been invested in growing the sign industry through the Roland DG Academy, which presents attendees with clear, practical and inspirational content that opens their eyes to new and profitable opportunities within the sign industry.
The sponsorship of the 'Roland DG Apprentice of the Year' was created to further underpin the Roland DG Academy's commitment to support both seasoned professionals wanting to diversify and those new to the sign industry with educational courses.
For more information, please visit www.rolanddg.com / www.rolanddg.co.uk
You can Tweet, Like us on Facebook, Share, Google+, Pinit, print and email from the top of this article.
Copyright © 2014, DPNLIVE – All Rights Reserved.