Direct-to-textile proves popular at MTEX Technologies' open day event.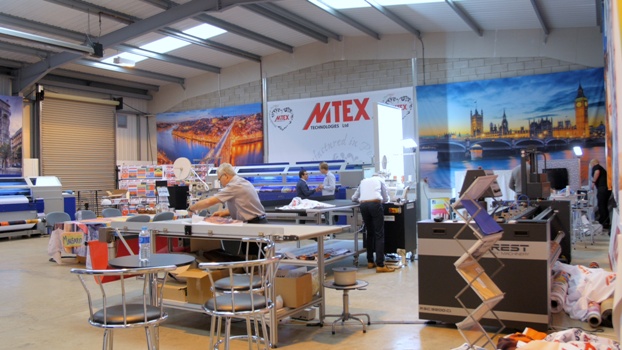 Customers had the chance to talk to the MTEX team about textile printing and soft signage at their open day event
Around 30 companies looking to expand their business through a move into the soft signage industry attended MTEX Technologies' recent open day in Leicester, UK.
The attendees were given an in depth look at the three MTEX direct-to-textile printers dedicated to the wide format sign and display industry (the 5032Pro, the 5032HS and the Blue). There was also a demonstration of the complete digital direct-to-textile print process from start to finish.
The event seemingly as well received, with orders placed on the day for an MTEX 5032Pro, two MTEX 5032HS's and two MTEX Blues.
Stewart Bell, MTEX Technologies MD said: "I think both ourselves and our visitors were delighted with this event, where customers had the chance to talk to the MTEX team and compare each printer for speed and suitability for their existing business.
MTEX open day "There was a lot of interest in the different applications such as flag and display for exhibition, but also in the stunning quality that we produced for lightbox applications.

"We discussed the workflow so that customers could fully understand the print and fixation process, the application, sizing and then the cutting or sewing finishing from Atech. Seeing the complete process working in a single dedicated space helped them see how direct-to-textile could fit into their own production area.

"In general, the visitors were particularly impressed by the inline sublimation fixation on all three devices, and the robust build of the machines along with the software and operational interfaces certainly wowed customers."
As well as inviting clients to the working showroom in Leicestershire, MTEX will also be offering dedicated factory visits in October for customers who wish to see the machines being built.
A film from the event can be seen at http://youtu.be/yyoYTU2v3Uk or for more information go to www.mtex.eu.