Wall, window and floor graphics made easy with ABC Imaging and UTACK media from CMYUK.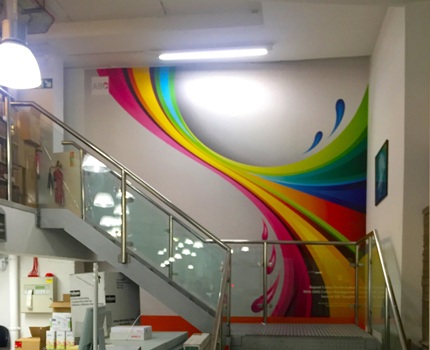 Wall graphics created by ABC Imaging using CMYUK's removable and repositionable UTACK media UK based ABC Imaging has confirmed it is meeting an increasing demand for temporary wall, floor and window graphics by using CMYUK's removable and repositionable UTACK media including the Multisurface option, with stunning results.
When the company was founded 15 years ago it specialised in reprographic services for architects and construction companies, and then diversified into sign and display adding PR, marketing, advertising and graphics companies to its client base.
Managing Director Andy Julian commented that while the move held a steep learning curve, the changing world of construction means that the industry's needs have actually changed in many ways to become more like those of sign and display companies.
He said: "We're now working much more closely with marketing teams linked to construction rather than the architects and designers themselves, creating banners and temporary graphics for use in pitches and public consultations rather than blueprints and project plans."

The company purchased an Océ Arizona 460 GT flatbed UV printer in 2015, and linked in with Michael Crook from CMYUK to look at application solutions to maximise the potential from their investment.
"We were already buying from CMYUK for smaller format printing, and worked closely with Michael and his team to look at the best materials for each new large format application we wanted to deliver," continued Julian.

"We quickly realised the potential offered by UTACK media for creating temporary graphics, and they are now incredibly popular with all our customers."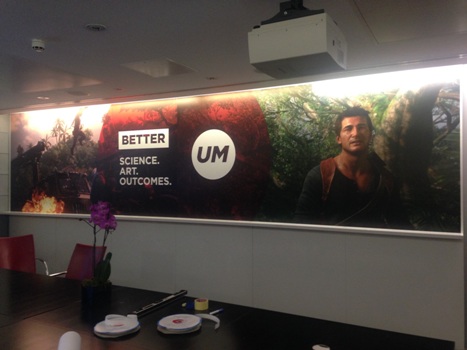 Another wall graphic created by ABC Imaging using CMYUK's removable and repositionable UTACK media 1aphic created by ABC Imaging using CMYUK's removable and repositionable UTACK media UTACK is a thin, woven self-adhesive polyester fabric on a backing paper. Its water resistant matte surface produces excellent printed resolution and high definition. There's no edge-curl when the product is under tension and the durable, universal coating eliminates cracking of the ink layer due to stretching.
ABC Imaging also use UTACK Multisurface media to produce larger wall images and floor graphics, which is a thicker and more opaque grade textile than the standard UTACK and can be used on walls, floors and on top of carpets.
ABC Imaging Sales Director Duncan Stuart added: "We're often asked about vinyls for installations that only need to be displayed for around three months, for seasonal promotions and other time limited marketing activities, and we're able to recommend UTACK as an alternative for most applications.
"We've also had demand for one-off installations, such as PR and marketing companies wanting to kit out their own boardroom in the name of a client for a special presentation, and architects who want to create a large wall display for a meeting in a client's office.

"UTACK is also ideal for exhibition venues where clients need to display large graphics but aren't allowed to stick anything to the walls, as the adhesive used ensures the display stays up but leaves no residue when it's removed."
UTACK media can be used for floor graphics as it is anti-slip, and its eco-friendly and fire rated qualities make it suitable for any venue. It's also easy for clients to install the graphics themselves, cutting the costs involved.
CMYUK's Michael Crook said:
"Displays created with UTACK are also more cost effective to produce than print and mount, as it cuts out one of the processes, saving time and reducing the risk of spoilage. The turnaround times are also much faster, which is essential with the client expectations of same day production in many cases."
And ABC Imaging is continuing to innovate – with 3D printing on a ProJet 660 printer running with Magic software. Ideal for use in product design and prototypes, they can also use it to provide models of building for architects, enabling them to create a complete package of a UTACK display covering an entire wall showing an area plan, informational banners and a 3D, scale model of a development on a table – a world away from the repro work of 15 years ago!
For more information, visit www.cmyuk.com, or go to www.abcimaginguk.com
You can Tweet, Like us on Facebook, Share, Google+, Pinit, print and email from the top of this article.
Copyright © 2016, DPNLIVE – All Rights Reserved.