PID has shown dramatic growth from three to 24 employees in ten years.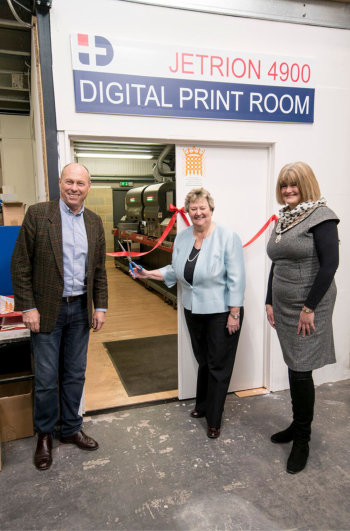 PID Labelling Systems' John Mayers with South Derbyshire MP Heather Wheeler and Melbourne Parish Council Chair Wendy Earp at the ribbon cutting ceremony for the company's new EFI Jetrion digital label production line.PID – Positive ID labelling Systems – has just upgraded to a faster, highly automated EFI Jetrion 4900 inkjet printing, laser cutting and finishing line amidst much local fanfare.  It has outgrown its previous EFI already which was bought two years ago.
PID recently held an open day to demonstrate its newly upgraded production line to customers – past, present and new. Member of Parliament for South Derbyshire, Heather Wheeler, officially cut the ribbon and opened PID's new digital print production room, together with Wendy Earp, chair of the Melbourne Parish Council. After the ribbon cutting, Mrs Wheeler watched as the advanced new UV-inkjet digital press printed a personalised label design based on the UK Parliament's crown and portcullis logo featuring a complex laser-cut pattern produced in-line.  She was impressed.
John Mayers is the PID Managing Director.  He said:
"Our new Jetrion press allows us to deliver high-quality, full-colour labels to our customers in a fraction of the time of normal analogue flexo print methods.  We remain dedicated to investment in the business and improving lead times and quality for our customers, and the Jetrion 4900 is a step towards that goal."

"We have a customer base of 2,000," he said. "A lot of them are small food producers, of speciality honey, pickles and other foods. Others are small breweries that need beer bottle labels in small quantities. Flexo is expensive for them, as the setup alone costs £300, so if they have four products they will have spent £1,200 on setup before anything is even printed. Now they can have very small quantities of full-colour labels when they need them, with the option of complex shapes without having to buy metal dies."
John explained that the press's ability to handle short runs with high-quality colour and complex cut shapes make it a great addition to its machinery lineup.
"It was great being asked to officially open and cut the ribbon on the new digital printing press and laser finishing equipment here in Melbourne," said Mrs Wheeler. "The machine is a great new tool that will be used to enhance the business further. It's always a pleasure to see small businesses in South Derbyshire grow, and invest in new equipment for the future. PID Labelling are also setting a great example to other small businesses in Melbourne and across the constituency."
Normally, a complex cut required for the label printed during the open day would have required a week to have a die created, and it would have cost several hundred pounds.  But, as John said "instead, with our new digital production line, we just drew the shape in a design program and saved it as a file."
Where PID came from
John Mayers and his wife founded PID ten years ago.  They started as a label print broker in a barn next to their house, in Melbourne, Derbyshire. When their main print supplier went out of business, they quickly established their own flexographic production facility to fulfil existing clients' orders. The company's two-storey facility incorporates flexographic production plus sales, admin, design and pre-press. The new Jetrion line is housed in a purpose-built unit attached to PID's main building.
Expansion
PID's expansion with digital printing follows an initial venture with a small, laser print engine for labels that proved to have too many limitations. Grafitec, a Local label converting equipment supplier who is an authorised EFI Jetrion dealer, gave John a demonstration of the EFI Jetrion 4830 model.  He immediately realised that it was clear that the press was the device he needed to jump start growth in the digital space. As John said:
"After we installed our original EFI Jetrion press we did £250,000 worth of digital business in its first year, up from £50,000 of digital before that.  It gave us the confidence to look at a bigger machine, which led us to installing the new press exactly two years later."
Ten years ago, the Company employed three people.  Now it employs 24.  John realises the importance of digital in this empansion.
Whilst the new press runs at 21 metres per minute, John can increase it up to 25.  The Jetrion line takes blank substrate up to 229 mm (9 inches) wide, with a print width of 210 mm (8.3 inches). Files are processed and sent to the printer via an EFI Fiery® system that runs on a server in the print room.
PID's press includes a dual-laser inline cutting unit, which can cut complex shapes at full speed, eliminating the need for expensive metal dies and lengthy finishing make-ready processes. The press also has an inline back scorer, a matrix stripper, a slitter module and a re-reeling turret that can handle multiple core sizes.
PID's new Jetrion installation runs a wide range of standard label stock substrates, and a corona treatment station on the press can be used to pre-treat challenging stocks to achieve better ink adhesion.  The press's UV-cure, four-colour plus white inkset offers instant drying and a consistent finish regardless of the media.