Investment made in direct-to-textile MTEX Blue Pigment Printer.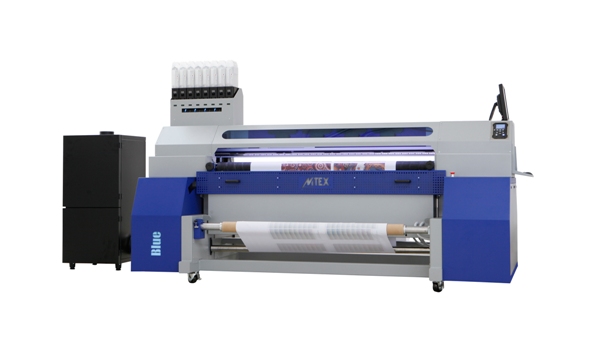 MTEX Blue
UK based Lewis & Wood, which produces textiles and wallpapers, has become the first company in the country to install an MTEX Blue Pigment printer.
The company was founded in 1993 by textile printer, Stephen Lewis and interior designer, Joanna Wood, and since then has produced a substantial collection of original products based on its business principle of 'trying to be different'.
This commitment to produce original products begins in their printing studio, where creative director, Magdalen Jebb collaborates with a variety of freelance designers, drawn from different disciplines, to encourage an original approach. It involves working with weavers, dyers, printers and finishers, all the time trying out new techniques to create results which can be extremely interesting.
Lewis & Wood invested in its first digital printer for printing wallpapers in 2014 and in February 2016, it invested in an MTEX Blue printer with Pigment inks for printing digitally onto fabrics. Stephen Lewis explained the reasoning behind the new investment;
"We now digitally print our wallpapers and so printing onto fabrics was a natural extension of this business. We've spent two and a half years building our knowledge of wallpaper printing and now we're ready to start experimenting with fabrics."
The company will use the MTEX Blue Pigment printer to create samples and experimental fabrics in-house, instead of waiting several weeks for strike-off's to arrive, a delay which can jeopardise the design project which may have moved on at that stage. Therefore, bringing this process in-house will allow the design department to complete the sampling process faster.
"In order to compete with the big boys, we have to be unique.  We need to be unusual and different, which is why we use a wide range of techniques and finishes to create our fabric ranges." Stephen continued, "We've only had the printer a few weeks and we are still learning. There is a considerable learning curve when it comes to printing digitally onto fabrics compared to wallpaper but we feel that in MTEX we have partner manufacturer that is willing to help us with this learning curve and equally through our own experimentation, we can feed back to them to help develop the project.  We are very confident that in MTEX we have a supportive supplier that will partner and support us along this exciting journey."
The MTEX Blue with Pigments was launched at ITMA 2015 and has inline heat fixation for the finishing of the fabric and fixing of the printed dyes.
For more information on the MTEX Blue, visit MTEX at Sign & Digital UK on stand C10.
You can Tweet, Like us on Facebook, Share, Google+, Pinit, print and email from the top of this article.
Copyright © 2016, DPNLIVE – All Rights Reserved.