New dedicated customer centre premises forms the next step in companies growth plans.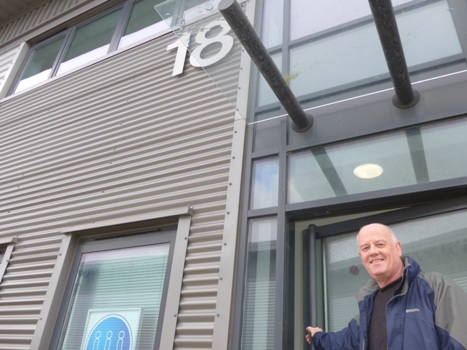 John Corrall outside the new building
In what has been described as a significant development, Industrial Inkjet Ltd (IIJ) is set to open a dedicated Customer Centre in the UK to manage the huge increase in demand for its print engines and services from across the world.
The industrial inkjet company has finalised terms this month to take on another building close to its headquarters on the same business park in Swavesey, near Cambridge.
John Corrall, Managing Director and founder of IIJ, said:
"This new building will become a dedicated Customer Centre and forms the next step in our growth plans. Our goal is to concentrate our print sample, training and customer demo functions into a new dedicated building so as to further improve the acclaimed quality of customer experience that we provide."

He added: "Having just celebrated our 10-year anniversary, it's an obvious time to review our activities and business strategy. One thing that has stood out recently is that a number of OEM customers for Konica Minolta printheads, who we have worked with for six or eight years, are asking technical details that surprised us. They are asking questions that we considered were well within their current skill area.

"Having visited a lot of these customers recently, I realised that many of the customers' staff have been promoted or have moved on, and the new engineers don't have a fraction of the inkjet experience that their predecessors built up.

"While we don't mind filling in these knowledge gaps as they appear, what is really needed is to get the new engineers to come to IIJ for our "deep" training courses. These courses – largely aimed at newcomers to inkjet – are also exactly what is needed by new staff working in "expert" companies. But if we are to increase the number of courses we provide then we also need to increase the space and equipment for them. And this is the goal of our new investment."
Apart from bespoke training courses, IIJ will also be providing fundamental engineering knowledge for machine builders. It already provides courses on ink testing and printhead parameter optimisation (waveform development) aimed at ink developers. However, IIJ believes each machine builder should have at least one in-house "guru" trained to the same level. The Customer Centre will also provide training for inkjet operators and maintenance and service staff, as well as providing courses in image processing and colour management.
The new facility will include dedicated print sample machines, including IIJ's XYPrint 300 units, as well as a new large roll-to-roll single pass system fitted with a number of IIJ print engines.
The equipment will allow IIJ to simulate many customers' production environments. Corrall said
"The investment will provide a customer demo and training work in a dedicated setting without having to fight for space with our production department, which has been expanding at an increasingly high rate over the past years."
http://www.industrialij.com/
You can Tweet, Like us on Facebook, Share, Google+, Pinit, print and email from the top of this article.
Copyright © 2016, DPNLIVE – All Rights Reserved.