European first for company after installing a second Durst Tau 330.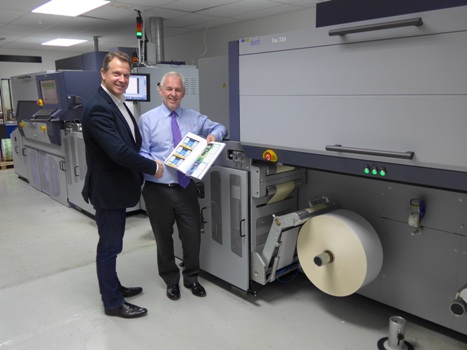 Helmuth Munter (left), Durst's Segment Manager, Labels & Package Printing, with David Webster in front of the Durst systems at LabMak's headquartersA European 'first' has been notched up by The Label Makers after it recently installed a second Durst Tau 330 system as part of a £2million investment.
The company was the first in the UK to purchase a Durst Tau 330 three years ago. Since then, according to The Label Makers, it has been so successful in developing new business using digital UV inkjet that it has taken a second system that is now in full production at its headquarters in Bradford.
According to David Webster, Managing Director of The Label Makers, customers are 'demanding' that their work is printed using UV inkjet digital technology on the Durst Tau 330.
"We have found the technology to be fantastic in the lift and vibrancy that the inks have given to our customers' labels, particularly in the health, beauty and pharmaceutical markets where customers require the silk screen look," he said. "The lightfastness capabilities are also attractive to the industrial and horticultural market sectors."
The new Durst Tau 330 comes with improved web tension control and a chill drum for printing flexible film and difficult heat-sensitive materials. Like its sister press, it also has a strong white for clear materials. The seven colours have also helped The Label Makers hit 94 per cent of all pantone colours.
"As a pioneer, we're constantly striving to keep ahead of the curve, and a massive learning one it's been," continued Webster. "The new machine was up and running within three days of delivery and this new technology has opened up so many doors for us, which is why we needed the new Durst press."
The Label Makers employs almost 70 staff and has a turnover of £7million. In the last six months, the company's £2million spend has also included digital finishing, two digital presses and other finishing and software.
Helmuth Munter, Segment Manager Labels and Packaging Printing for Durst Phototechnik AG, said:
"The Label Makers started double-shift operations shortly after installing the first system. This speaks volumes, as does the fact that their customers are making specific requests for their work to be done on our systems. We're proud to be supporting them with another Durst Tau 330 as they grow their business using UV inkjet digital technology."
http://www.labmak.co.uk/
You can Tweet, Like us on Facebook, Share, Google+, Pinit, print and email from the top of this article.
Copyright © 2016, DPNLIVE – All Rights Reserved.