Company turns again to EFI for new capabilities and opportunities with new printer purchase.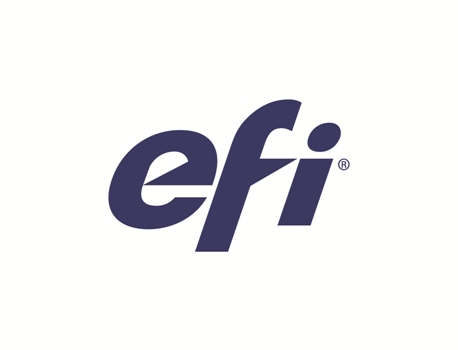 EFI has confirmed that, Prompt Side Theatrical Drapery, a UK theatrical industry supplier is the first to invest in the new EFI VUTEk® FabriVU® 340 soft signage printer. Already a user of a VUTEk GS3250LX Pro LED printer, the company - Britain's leading theatrical drapery producer – had been investigating a way to add polyesters and other fabrics to its portfolio in an effort to increase its versatility for interior and exterior stage and event projects.
On a visit to the recent Fespa Digital tradeshow in Amsterdam, Prompt Side executives were impressed with the high-end polyester imaging capabilities possible of the new VUTEk FabriVU printer line during its debut at the show, so much so that they didn't hesitate to order the new fabric graphics printer. Peter Baker, managing director of the Kent, UK-based theatrical design and décor specialist, said of the purchase:
"I am delighted to be at the vanguard of theatrical digital print. This is an exciting time for Prompt Side as we expand our range of products and massively increase the creative opportunities available to designers."
With the recent purchase of the fabric graphics printer, Prompt Side can extend the types of scenery, backdrops and drapery it produces for a vast range of applications. Additionally, the new machine offers the company the ability to work with lightweight, polyester-based materials that offer environmental and logistical benefits, including easy delivery and installation. The team at Prompt Side also like the excellent print durability which the VUTEk FabriVU printer offers, plus its 2,400 dots per inch (dpi) maximum resolution, which produces photo-quality, vivid images with highly saturated colours and powerful blacks.
Apart from printing, Prompt Side offers a full creative service to its clients, including project management, installation and repairs and maintenance if required. Over the last quarter of a century, the company has developed a renowned reputation for producing drapery and printed sets for theatres, opera houses and television studios with backdrops, ceilings and floors, as well as unusual cloth-based items.
It was during 2015 that Prompt Side first increased its digital print production capabilities with an initial VUTEk printer purchase, a 3.2-metre EFI VUTEk LED hybrid roll/flatbed model that uses energy-efficient, "cool cure" LED technology. This investment was made because the printer delivers high-quality results on an extended range of substrates, including those that cannot withstand the heat of other drying or curing processes. A further factor was that EFI's LED inkjet platform also is very energy efficient compared to UV or latex imaging process, as it uses up to 82 per cent less energy, according to research conducted by Fogra.
With the first VUTEk printer delivering continued growth in digital print, company executives realised that they could further advance their textile imaging operations with a productive, cost-effective industrial solution offering high image quality. Prompt Side's requirement for superior imaging and reliability was a key element in its choice of the new, 3.4-metre wide VUTEk FabriVU model. The printer uses environmentally friendly, aqueous, dispersed dye-sublimation inks. It also is highly efficient in its ink and water usage, thanks to an ink recovery system that can reduce ink costs by up to 15 per cent.
Prompt Side's newest tech investment prints at speeds up to 464 m2/h and features four-level greyscale printing with 4- to 72-picolitre drop sizes. The printer, which also is available in a 1.8-metre version, was developed by EFI Reggiani - an Italy-based global leader in aqueous-based textile print technology that EFI acquired in 2015.
Along with the new printer installation, Prompt Side has established a streamlined production workflow with an EFI Fiery® proServer platform that provides a common interface for the company to drive jobs on its two VUTEk products. The latest-version proServer installed at Prompt Side helps ensure superior colour management, plus it simplifies the process of applying correct imaging settings based on the type of job being printed. The company's new Fiery system also offers extremely efficient processing, RIPing VUTEk print jobs up to 60 per cent faster than previous proServer versions.
"Prompt Side now has a bigger competitive advantage, with a new, powerful and sustainable platform to address growing demand for fabric graphics," commented Paul Cripps, EFI's regional vice president of sales. "Peter Baker and his team will capture new opportunities as the first users of this advanced printer and that serves as a great example of how businesses can follow the real momentum in the market by taking digital graphic display printing to a new level of innovation."
To see many of the extensive, imaginative applications possible with EFI print technology, visit www.ImagingofThings.com or www.efi.com.
You can Tweet, Like us on Facebook, Share, Google+, Pinit, print and email from the top of this article.
Copyright © 2016, DPNLIVE – All Rights Reserved.