Sabur Ink Systems Ltd appointed as new UK distributor.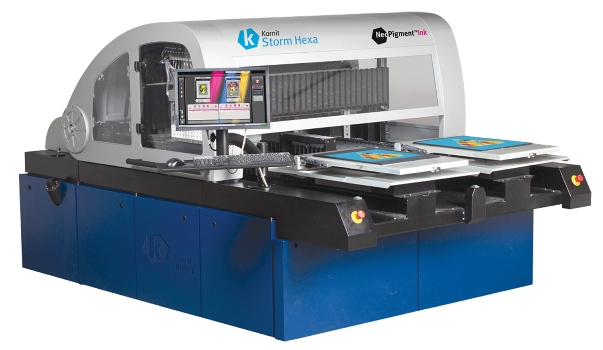 Kornit Storm Hexa
Israeli headquartered Kornit Digital, a company which develops, manufactures and markets industrial and commercial printing solutions for the garment, apparel and textile industries, has appointed Sabur Inks Systems Ltd, Barnsley, South Yorkshire, as an additional distributor for the United Kingdom. The agreement covers all of Kornit Digital's direct-to-garment printing systems and will expand Sabur Inks Systems product portfolio.
Sabur Ink Systems was established in 1998 by Dean Sanger and Ian Burton who have worked in the textile industry since the early 1980s and from 1990, both have been particularly active in the screen sublimation print sector. Their combined knowledge in this industry soon made Sabur Ink Systems one of the market leaders in sublimation supplies, a position the company still holds on to some 18 years later.
"We are very excited to become a Kornit partner and look forward to expanding and solidifying the representation of both companies within the UK textile print sector. We consider Kornit Digital the world's most recognised and trusted direct-to-garment brand," said Aaron Burton, Sabur's Digital Development Director. "Combined with our wealth of textile knowledge this can only help to strengthen both Sabur Digital and Kornit Digital as market leaders in an ever evolving industry. Our show suite in Barnsley, South Yorkshire, will boast the UK's first Kornit Storm Hexa which will be available for demonstrations from June."
Eyal Manzoor, President of Kornit Digital Europe, commented:
"Our goal is to create the best possible user experience for our customers, and an important aspect of this is the combination of leading technology with local expertise. We aim to work with the leading partners in all regions, and Sabur makes a perfect complement to our European reseller network."
For more detailed information please visit Sabur's website at: www.sublimationinks.com. 
Visit Kornit Digital at www.kornit.com 
You can Tweet, Like us on Facebook, Share, Google+, Pinit, print and email from the top of this article.
Copyright © 2016, DPNLIVE – All Rights Reserved.