Company installs two Xerox Versant 2100 presses and dramatically increases digital printing capacity.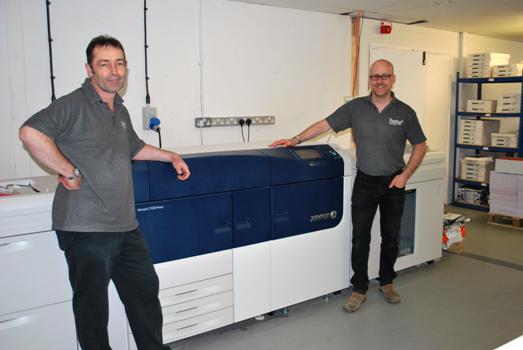 The Xerox Versant 2100 Press with Hunts' Rich Wickson on the right and Hunts' Simon Barrett on the left
UK based Hunts, located in Oxfordshire, installed two Xerox Versant® 2100 Presses to strengthen its digital printing capabilities with an eye to supporting the company's future ambitions for business growth.
The company is considered an innovative print and design business with a customer base that encompasses a wide range of industries across the U.K. including beauty, technology and education.
Hunts has big ambitions to grow its business by 20 per cent over the next twelve months. To realise this, the company needed a solution that would allow it to take in larger orders as well as deliver to tight deadlines, while still retaining its commitment to providing top quality products in the digital printing market.
Having evaluated the options that were available, it plumped for Xerox.
Now, following the installation of the Xerox presses, Hunts has nearly trebled its digital printing capacity. The Versants use Xerox EA Low Melt Dry Ink that produces great quality with a low-gloss formulation that gives all applications a smooth offset-like finish. The presses have also helped Hunts to meet an increased customer demand for printing full colour envelopes.
"Our ethos at Hunts is to deliver best-in-class print for the digital world and we needed a solution which would help us achieve that," said Rich Wickson, Digital Print Manager, Hunts. "The Xerox Versant 2100 Presses have enabled us to enhance our digital print offering and take on more printing jobs, helping to increase productivity within our existing workforce."
Mike Holyoake, general manager, Graphic Communications, Xerox U.K. added this comment:
"Hunts are determined to remain competitive within an evolving print market and the installation of the Xerox Versant 2100 Presses will enable the company to continue to grow. By improving the efficiency of its digital print capabilities, Hunts can focus on broadening its customer base without compromising on the high quality they are renowned for in the industry."
Learn more at www.xerox.com. 
You can Tweet, Like us on Facebook, Share, Google+, Pinit, print and email from the top of this article.
Copyright © 2016, DPNLIVE – All Rights Reserved.