New digital production facilities prove digital and traditional print can complement each other.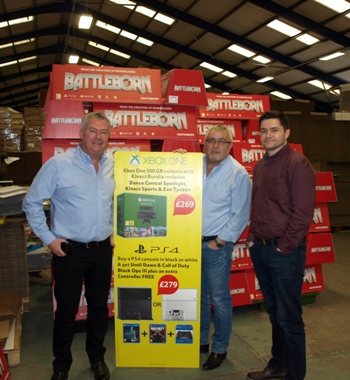 From left, CMYUK director Robin East with Nene Packaging's Rob Lugmayer and son David LugmayerUK based Nene Packaging, a family run business, has recently installed an EFI VUTEk LED GS2000 LX Pro Ultra drop with Media Edge Guide (MEG), Spectrophotometer and Zünd S3 Cutter supplied by CMYUK. The investment was made to eliminate the amount of jobs being outsourced due to a foray into digital print some years back which didn't live up to the companies quality standards.
Nene Packaging, like most companies, owes its success to hard work and producing quality products. So keeping abreast of the latest technological developments in its print and finishing plant is critical to the companies continued growth.
The Northampton Company was founded in 1994 and current owners Rob and Maria Lugmayer took over the reins in 2003, the company itself celebrating 22 years in business this July. Nene Packaging now employs 42 staff full time and at peak times like Christmas for example; it has to bring in additional agency staff to fulfil orders. The company today is considered one of the foremost manufacturers of screen and digitally printed point of sale and corrugated cartons in Britain.
Nene Packaging covers everything from design, visuals, layout, print, cut, fold, distribution and assembly. It is an approved Tesco supplier and member of SEDEX (Ethical trading).
The company's first foray into digital print was just over four years ago when it bought the Grapo Shark. Unfortunately its bite was much worse than its bark and Nene found that it had nothing but problem after problem. This was a hard lesson to swallow and the company found themselves outsourcing digital jobs again as the quality and consistency from its own digital facilities did not meet its own exacting standards and customer demands. It was a matter of 'once bitten, twice shy'.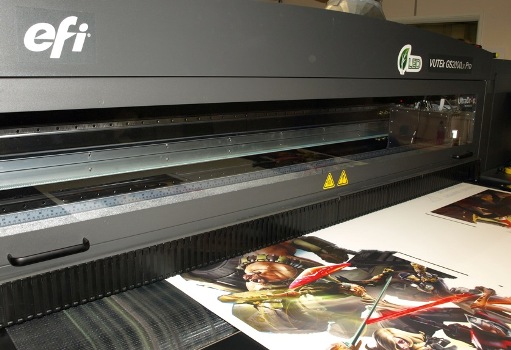 Nene Packaging's new EFI VUTEk LED GS2000 LX Pro in action However, as Rob puts it, along came CMYUK as their "knights in shining armour" to rescue the situation and fight for the righteous side of all things digital. Robin East, director at CMYUK, assessed the need and quickly established the solution for the company and the result was Nene Packaging investing in the EFI VUTEk LED GS2000 LX Pro Ultra drop with Media Edge Guide (MEG), Spectrophotometer and Zünd S3 Cutter in March of this year.
The MEG system allows operators to print on corrugated material which can commonly have warped edges. Additionally, the MEG system allows printing on climate or heat reactive substrates, ensuring the heads don't strike the unstable media, which saves time, prints and reducing waste. The system consists of a front rail that mounts to the front output roller, and skis that are anchored in the front to the main beam of the printer and in the back to a rear dovetail rail under the main beam. Once mounted, the skis are locked in and levelled to the desired media. Corner stops and rear edge blocks for the media fence are included to compensate for the ski width.
CMYUK supplied an ex-display Zünd S3 to replace one of the CAD tables, alongside the new EFI VUTEk LED GS2000 LX Pro wide-format printer, which, according to Rob, has sped up the sample-making process and enabled short production runs already.
He said: "We only had the system installed in March and are now totally up to speed and have the confidence to run in full production mode. The whole system took around 7-10 days to install and train, which we fully expected, and since then we can't fault it."
The digital print system runs alongside Nene's existing screen printing operation which the company says 'fits beautifully into the business'.
Rob added: "We are able to decide when a job comes in if it's financially viable to put through digital or screen and are now in a position where we can colour match almost exactly if we need to split some elements of the POS to print digital or by traditional screen processes. It's enabled us to react more quickly, with confidence that our digital side will be equal in quality and in some cases better than our traditional print side which has always been classed as the best in the business.

"Far from thinking that digital technology sounds the death knoll for traditional print, we believe that it actually enhances our business and will equip us to develop new products and grow the business exponentially."
http://www.nenepackaging.co.uk/ 
You can Tweet, Like us on Facebook, Share, Google+, Pinit, print and email from the top of this article.
Copyright © 2016, DPNLIVE – All Rights Reserved.