Ben Grist grows Oakdene to £1.5 million in four years.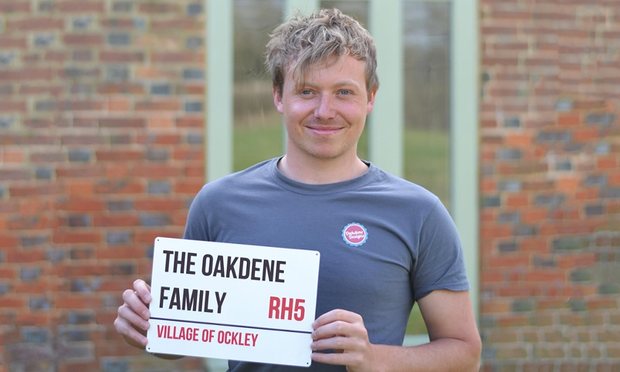 Ben Grist, Founder of Oakdene DesignsSurrey based company, Oakdene Designs founder was Ben Grist. When he was 17 and in college he started his first business.  It was during this time that the young entrepreneur first came across Roland DG.  This business was manufacturing high end chicken coops. He soon invested in a Roland DG GX-24, the predecessor to the GS-24 Desktop Cutter, allowing him to produce custom-made stickers for the coops. The desktop printer required a low initial investment and this, coupled with Ben's prior knowledge of the machine from college, made the GX-24 the perfect choice for the newly launched business.
Like all entrepreneurs, he wanted to diversify and expand.  This brought him to explore the possibilities that the Roland DG had to offer.  He was able to start a new business producing and selling wall stickers and prints through well-known commercial retailer websites such as 'Not on the High Street' - and in 2012 Oakdene Designs was born.
Being a busy man, Ben was organising his time between studying a product design course at Bournemouth University and his new business venture.  The smell of entrepreneurial passion was getting the better of Ben. So like other great entrepreneurs before him, people like Michael Dell, Steve Jobs, Bill Gates, Mark Zuckerberg, Larry Ellison, to mention a few, Ben made the decision to leave university in his final year of studies to fully concentrate on his design company which was growing month by month. The business was run out of a small studio at the end of his road in Brockham, Surrey alongside his 3 members of staff to keep overhead costs at a minimum. The decision proved to be the right choice as Oakdene Designs achieved a turnover of 60k in its first year.
The company was growing at this stage and Ben had to keep his foot on the accelerator.   He was keen to diversify into new and exciting markets and so he invested in a Roland DG GX-500 from the CAMM-1 PRO GX Series. Much larger in size than the GX-24 desktop cutter, the powerful vinyl cutter combined with an aqueous printer gave the team the opportunity to create a more diverse variety of products including canvases, decorative signs, adhesive wallpaper murals and larger wall sticker sets.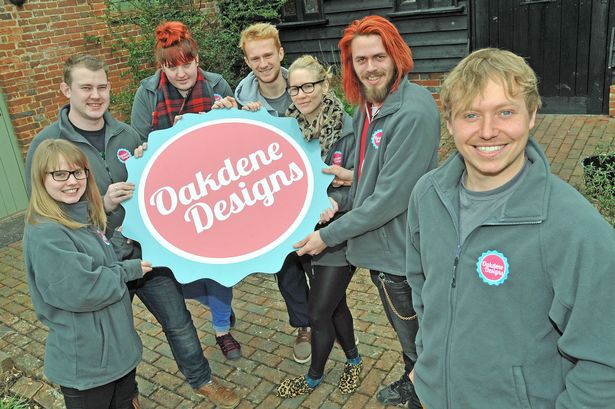 Oakdene Design PersonnelBen was conscious of keeping costs low, therefore he looked at ways of making his operation more efficient, or is it effective? The definition says that being effective is about doing the right things, while being efficient is about doing things right.  Being efficient is about taking control over your effort, process, goals and time.  This led Ben to the Roland DG SOLJET PRO 4 XR-640 wide format inkjet printer/cutter. Having the print and cut facility in one machine meant that Ben and his team were able to maximise efficiency to produce high-volume, high-quality products on demand. Soon after, Oakdene Designs introduced a more creative product range to include personalised printed photos, signs and larger bespoke canvas.
Commenting on the rapid expansion, Ben said:
"As business started to pick-up I knew I needed more than a desktop cutter. The GX-24 had been a great first investment and given us the chance to find our feet and understand where we wanted to be in the market. The addition of the two new Roland DG machines meant we could expand on our vision to offer an exciting range of bespoke decorative products."
In 2016 the small team of eight full-time staff members were selling high-volume specially made-to-order decorative products on the web in the UK and worldwide and had reached an annual turnover of over one million £ in four years. Determined to remain competitive and maintain the level of growth the business has achieved, Ben, who is always thinking of new ideas and design opportunities, came across the Roland DG VersaUV LEF-300 UV Printer. The UV inkjet flatbed printer could take Oakdene Designs productivity to the next level and offer the flexibility of digital customisation and personalisation, which was a growing market trend that Ben was keen to exploit. Without any delay the LEF-300 was soon part of the Oakdene Designs family and not long after its arrival, the business was able to expand its product line accordingly.
The UV printer was able to print directly onto a wide range of substrates, allowing Oakdene Designs to create a larger range of unique decorative items to include bamboo decorations, illuminating photos, street signs and transparent photos. Built to meet high-volume demands, the UV printer provides a consistent high-quality finish even during long production runs.
Ben said
"The addition of the LEF-300 gave us the ability to print onto a larger variety of materials including wood, fabric leather and acrylic, all without a primer. We have remained successful at Oakdene Designs because we are constantly thinking of new and innovative designs that no one else has done before, and using our Roland DG machines, we have been able to produce some really exciting stuff."
With personalisation at the heart of Oakdene Designs' success, the Brockham based business is looking forward to the future and have hopes to one day take creativity to new heights with the purchase of a Roland DG LEJ-640FT, the newest addition to the Roland DG UV range.
"I knew from the minute I first started working with Roland DG machinery at college that the machines were something I wanted to work with forever. The ease of use, versatility and power are incomparable and have been an essential element to the success of the business. At Oakdene Designs we have succeeded by combining our Roland DG machine capabilities together to create new and innovative products. By continuing to do this we will carry on providing our customers with the high-quality products that they have come to expect. All that's stopping us is our imagination!"
For more information on all of Roland DG's products, please visit: www.rolanddg.co.uk
For more information on Oakdene designs products: http://www.oakdenedesigns.com/