Roland DG announces availability of specialist Texart Fluor ink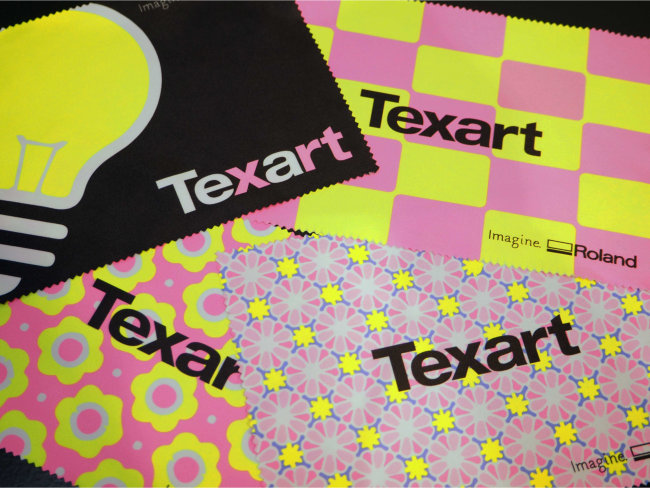 texart fluor inks
Roland DG are pleased to announce the UK availability of Texart Fluor inks, adding an amazing range of fluorescent colours to the already wide gamut. Texart XT-640 and Texart RT-640 users are offered the chance to increase their colour portfolio with over 375 fluorescent hues when combined with other Texart inks, bringing new profitable applications to their business.
The Texart fluor inks, available in Yellow (Fy) and Pink (Fp), can produce vivid output which standard process colours alone are not able to achieve. To maximise the colour gamut a CMYKOrVi (Orange & Violet) +FyFp 8 colour ink configuration has been produced for use with the XT-640 and RT-640.  This allows Texart users to add many creative colours to their output ideal for sportswear in areas such as motocross, mountain bike, BMX, athletics, skiing or cycling alongside eye-catching fabric banners, flags or textiles for fashion.
Mark Elvidge, Business Development Manager at Roland DG UK, says:
"We are constantly evolving our Texart range and listening to our customers and the market requirements.  Demand for fluorescent inks has been increasing steadily due to the growing need for high quality, consistent fluorescent shades to be used in fashion and sportswear. We have made it simple to combine these colours with the standard Texart ink so our customers can now output some stunning hues across the spectrum"
To accompany the Fluor inks and simplify their use in production, Roland DG have created the Fluor Color Library compatible with both CorelDraw and Abobe Illustrator. Simply selecting the desired Fluor colours in the library swatch palette allows users to quickly and easily incorporate pure, vivid and pastel fluorescent colours into their designs for high quality dye-sublimation transfer output.
Texart Fluor ink is fully supported by Roland ErgoSoft Edition, Roland DG's specifically developed RIP software from ErgoSoft which is included with the Texart range. This feature rich RIP software from the premier provider to the textile printing industry, offers a unified and simple way to add Fluor colours to any output, utilising Roland DG's Fluor color library.
Mark continues:
"These fluorescent colours are hugely fashionable at the moment, with more sports teams utilising them in 2016 to provide high impact, eyecatching sportswear. With a huge year of sport coming up, many suppliers and designers will be wanting to capitalise on this with their offerings.  By adding these Fluor inks to the Texart range we are not just adding Yellow and Pink fluorescent options, we're adding over 375 fantastic colours and expanding the possibilities of thousands of businesses across the country".
Texart ink is available in economical 1L pouches, and from 1st August will be listed at a reduced RRP, offering businesses even more opportunity to add Texart technology to their business at a lower running cost.