Harrison Packaging Purchases EFI Packaging Suite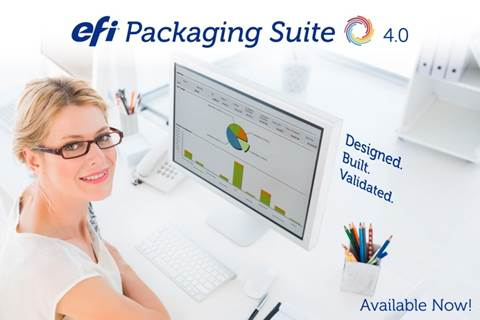 EFI Packaging Suite
Harrison Packaging is one of Europe's leading independent suppliers of printed cartons. On 24 August, they have signed a deal to further automate their plant-wide ERP workflow, purchasing an EFI Packaging Suite.
The company, which is based in Stockton-on-Tees in North East England, is a long-time user of Shuttleworth MIS software. After Electronics For Imaging (EFI) acquired Shuttleworth, Harrison was introduced to the packaging-specific, comprehensive integrated ERP technologies EFI offers specifically for the packaging industry.
The Harrison team saw how the Packaging Suite's certified workflows and scalable capabilities fit with their vision for the future, and completed the deal upon visiting the EFI stand at this year's drupa tradeshow in Germany. Harrison is now moving forward with a comprehensive ERP upgrade designed to improve its productivity and provide data useful for making smarter management decisions. The Suite will also help Harrison effectively reach new markets by streamlining sales communication and CRM processes. The Packaging Suite at Harrison includes EFI Radius® as its core ERP software, along with direct-machine interface, shop-floor data collection, business intelligence and CRM components. 
Mike Baum is the Harrison Packaging Sales Director.  He said
"Having seen the scope of the EFI Packaging Suite, we are really excited about the potential for future improvements to productivity throughout the business and the streamlining of our front-end activities. In addition, the improved availability of the right management information will help us move the business forward more quickly, all of which will bring visible benefits to our diverse and growing customer base and improve long term prosperity for Harrison." 
The newest version 4 of the Packaging Suite being installed at Harrison made its worldwide debut at drupa. The Suite includes 20 certified workflows that provide unprecedented levels of business and production automation geared towards real-world label and package converting environments. New features include a Packaging Suite Productivity Workbench that streamlines the flow of information for estimators and customer service personnel based on their specific job duties.  
The Suite will automate EFI software solutions across Harrison Packaging administrative and production environments as an out-of-the-box, end-to-end and optimised business and production workflow. The Suite's advanced, award-winning business intelligence features will give the company visibility across the business so that managers can make informed, proactive decisions.  
Paul Cripps is the regional vice president of sales for EFI. He said
"Drupa 2016 was an excellent opportunity for EFI to advance the cause for integrated, automated efficiency for even the most complex packaging workflows using the new advancements added to our Packaging Suite.  We are excited to have a respected, leading carton supplier like Harrison Packaging continue its evolution in workflow technologies with this comprehensive upgrade to the industry's most-advanced packaging ERP technology offering." 
Andy King is the former joint managing director of Shuttleworth and current senior manager, Customer Base Development, for EFI Productivity Software. He said
"EFI cares deeply about its clients and wants each of their businesses to benefit by having the best possible solutions at their disposal. With Harrison Packaging, we've shown that the best option is a transition from the Shuttleworth MIS to the Packaging Suite. For other users it's been the addition of solutions such as our Digital StoreFront web-to-print product to work with their Shuttleworth MIS. I'm delighted to be able to provide the best solutions for all of our clients."
The EFI Packaging Suite is one of multiple segment-based Productivity Suites available from EFI, the leading provider of print MIS/ERP, web-to-print and digital production print workflow technologies. Printing and packaging professionals across the globe rely on EFI's portfolio of workflow products to manage their businesses and become more streamlined, efficient, informed and profitable. For more information, visit www.efi.com.