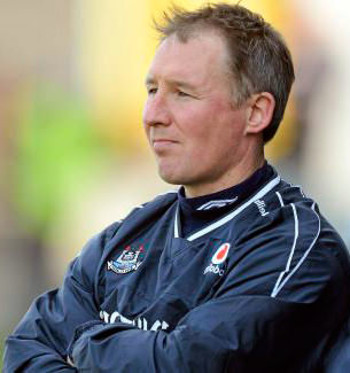 Jim GavinNew Dublin football manager Jim Gavin has started to make his mark on the senior squad by cutting Paul Brogan and Ross McConnell from the panel.
Neither was present when he outlined his future plans to a provisional squad of 50 players assembled on Friday, Nov 2nd.
It wasn't a surprise since McConnell played no part in the last years Championship and Brogan appeared only once as a substitute due to a string of injuries.
This now means that of last year's squad, the St Oliver Plunkett's duo, along with Michael Savage, Eamon Fennell, Paul Casey and Thomas Quinn are now surplus to requirements.
However Gavin has a battle on his hand to secure the services of talented dual player Cormac Costello who was at the first meeting but has also attended a similar assembly for the 2013 hurlers.
It's not yet clear whether Costello will try his hand at both codes or choose hurling instead.
On another note, Dessie Farrell was officially confirmed as the new Dublin U21 football manager at a full meeting of the county board on Monday 5th Nov.
The U21 hurling role has still yet to be decided.
Copyright © 2012, DPNLIVE – All Rights Reserved