Press release sent out by Enda Kenny, Irelands - An Taoiseach (Prime Minister of Ireland)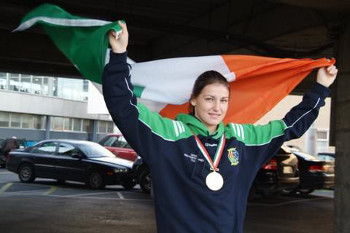 "Katie Taylor is not only an Olympic champion, she is a force of nature whose pioneering spirit and boxing brilliance have seen her realise her personal dream of winning Olympic gold.
In doing so she has set an exceptional standard and there is no doubt that she is a role model that many will follow. She has won the hearts and minds of the Irish people who admire her greatly and love her to bits. Amidst it all Katie's warmth and humility shine through. Her parents have been her guiding light but the exceptional relationship between Peter and Katie, her coach and father, has had a powerful impact on her career.
Team Ireland has done the country proud at the London Olympics and, although there are results still to come, we look set for a historic outcome. We congratulate all athletes on the achievement of making it to London to represent Ireland.
I would like to congratulate Cian O'Connor on his wonderful achievement of bronze in a spectacular show jumping display yesterday, where he showed that vital quality of constant readiness to perform at the highest level.
I also wish those who have earned a place in the medals but whose journeys continue and all those who still to have to compete the very best in the days ahead. Our Irish athletes have already made the country proud and I have no doubt that they will continue to do so."
KATIE TAYLOR FACTFILE
1986: Born July 2 in Bray, Wicklow,
1998: Starts boxing, age 12
2005: Wins European title in Norway.
2006: Retains European title in Poland; crowned Ireland's first women's world boxing champion
2007: Wins her third consecutive European title in Denmark; makes Republic of Ireland football debut against Hungary.
2008: Retains world title in China; scores and is sent off in Ireland football defeat to Italy.
2009: Retains European title in Ukraine.
2010: Retains world title in Barbados.
2011: Retains European title in Holland.
2012: Retains world title in China.
2012: August 9: Wins Olympic gold in women's lightweight division at London 2012.
Copyright © 2012, DPNLIVE – All Rights Reserved