Bray girl has beaten the best in the world over the last few years.

---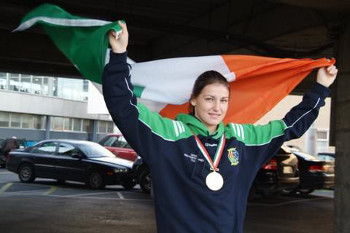 katietaylorShe's our best Olympic hope and the talk is that all is calm in Katie Taylor's camp as she waits for her first boxing bout on Monday the 6th August.
The world's No 1 boxing champion is now a household name here in Ireland and all over the boxing world. And as you can imagine, every country competing in women's boxing at London this year has Katie in their sights.
One concern for her father Peter, who is also her coach, is that if Katie wins an easy Olympic gold it will devalue women's boxing.
However Peter Taylor believes Katie is taking responsibility for ensuring that female boxing continues as an Olympic event.
After she declared that the world's best women boxers should have been given a wild-card entry to the London Olympics, some commentators thought that she had made a mistake.
Katie thought differently. She is quoted as saying: "Why would you want to go to the games and box some girl who you can stop in one round. The World Boxing Championships is much harder to win than the Olympics. Some of the top names in the game unfortunately didn't qualify like Gulsum Tatar, ranked no 2."
Well, she has beaten the best in the world over the last few years. Can she now add an Olympic gold medal to her unbelievable tally of European and World boxing medals?
Copyright © 2012, DPNLIVE – All Rights Reserved