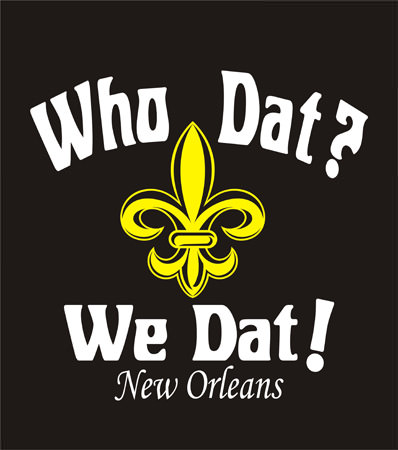 Who Dat T-shirtWho dat? Who dat? Who dat say dey gonna claim the trademark rights to the phrase identified with the New Orleans Saints? [This term was made popular by the New Orleans Saints, a Louisiana based NFL team in the USA, but not by either team playing in this year's Super Bowl.] The NFL it seems!
The "who dat" chant spread by fans of the New Orleans Saints is under siege this week from the NFL. The Wall Street Journal explains:
The NFL asserted rights to ["who dat"] earlier this week through the Florida Department of State, and it has issued cease-and-desist orders against New Orleans vendors who sell Saints memorabilia adorned with the wording. It informed vendors that using the phrase is likely to "confuse the purchasing public into believing that your items" are sponsored by the NFL.
New Orleans locals are outraged and suspicious. The NFL, they contend, never cared about the quirky chant when the football team was dubbed the 'Aints a few decades ago, or after it was ousted from its home stadium in 2005 by Hurricane Katrina and finished 3-13.
As I see it there are 2 sides to this (in reality there are probably 102):  Why should the NFL ,who make billions of dollars per annum, worry about a guy in New Orleans selling a T-shirt at $10?  Is this really going to put the NFL in the red or damage its bottom line?
On the other hand if a tee shirt is created with a" Mick E Mouse" or a "Just Do It logos [owned by Disney and Nike respectively], a cease and desist letter would most assuredly be issued.  Is it similar with NFL and do they own Who Dat?  Today it's New Orleans but tomorrow it's sellers in 50 States. Besides, the reason people in New Orleans didn't know that they weren't allowed to sell "Who Dat" T-shirts is because no one identified with the logo until the Saints contended in the Super Bowl in 2010.
In the meantime, The NFL and a Louisiana recording company have resolved their legal dispute over merchandising rights to the "Who Dat?" chant of New Orleans Saints fans. Last Tuesday, a federal judge agreed to dismiss claims that "Who Dat?" Inc. and the NFL filed against each other after the Saints' Super Bowl victory in 2010. The company, which recorded a song in 1983 that used the popular chant, had accused the NFL of violating its trademark of the phrase. Brian McCarthy, NFL spokesman, says the settlement calls for the league, the Saints and the company to make co-branded merchandise available to fans.
The agreement doesn't resolve other claims that "Who Dat?" Inc. filed against several tee shirt shops over alleged trademark violations.
This contest over ownership of the "Who Dat" Logo will continue long after this week's Super Bowl game is over.
Copyright © 2011, DPNLIVE – All Rights Reserved