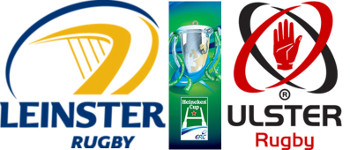 leinster-ulster-heineken
---
The Heineken Cup is Ireland's and Europe's most popular annual rugby competition after the six nations and in a week's time it will be an all-Irish clash between Leinster and Ulster in the final at Twickenham in London.
---
The competition started in 1995-96 and is considered the European Rugby cup. Sponsored by Heineken and known as the H Cup in France because of their rules for alcohol-sponsored sporting events, the popularity of the competition was shown in 2009 when a crowd of 82,298 in Croke Park, Dublin, watched the clash between Munster and Leinster in the semi-final. It was a world record attendance for a club game at the time.
This is the first time two Irish teams play each other in a final and it should be a cracker! Its been dubbed the first All-Ireland final to be held outside the country!
It's not the first time either team have been in the final. Leinster are looking at winning the cup for the third time on the back of winning it last year and having won it previously in 2009. The only other team to win back-to-back finals has been the Leicester Tigers in 2001 and 2002. Ulster is looking to capture it for the second time after winning in 1999.
The Irish teams have an envious record in this competition. Next week Ireland will have had six winners of this coveted trophy and three who were beaten finalists. Not a bad record for a small rugby nation! Munster also won the cup on two occasions in 2006 and 2008. The only other multiple winners are Wasps (2), Leicester (2) and Toulouse (4).
Even though the sport in Ireland is truly an all-Ireland game, with the Irish national side made up of players from Munster, Leinster and Ulster, the rivalry between the two finalists is very strong.
GETTING THERE
The path to the final is a tough one. The competition is held from October to May each season and is made up of club (or provincial) teams from the Six Nation competing countries:
England         6 teams based on the performance of their premiership and Anglo-Welsh Cup
France          6 teams based on the Top 14 league
Ireland          3 teams on performance in the Pro 12 competition
Wales           3 teams based on the same competition
Scotland        2 as above
Italy             2 as above
These 22 places are added to by including the holders of the cup and the winners of the European Challenge Cup. If they have qualified already, the country can award the extra place to another team.
As an Irishman and a rugby fan, I always cheer on any Irish team in the competition. On this occasion I will be rooting for Leinster. I hope it will be a cracking game and that both teams do us proud!
So, COME ON LEINSTER!
By Tony Judge - Sports Corrrespondent
Copyright © 2012, DPNLIVE – All Rights Reserved