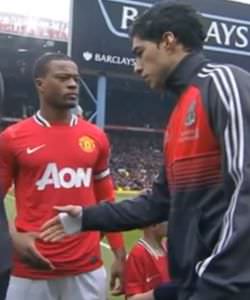 It seems British Prime Minister David Cameron is set to enter the ongoing row on racism which is plaguing English soccer by calling a Downing Street meeting to discuss the problem.
The issue has dominated the headlines there for weeks. Add in a fortnight of the highly publicised trial of Harry Redknapp (who walked free from court last week after being charged with tax evasion) and you can see why the press is giving English soccer a hard time! Cameron doesn't need this, not with the Olympics just down the road. It's also damaging the UK's image abroad which in turn could potentially hurt its economy.
The reports suggest that Cameron and Culture Secretary Jeremy Hunt are to hold a "roundtable discussion" with football officials and players' representatives later this month to put pressure on all concerned to get a grip of the problem.
Cameron's intervention it appears follows some high-profile incidents with a momentum of their own.
Controversy was stirred again a week ago when Liverpool striker Luis Suarez refused to shake hands with Manchester United's Patrice Evra before their clubs' match at Old Trafford.
Suarez had only recently returned to play for Liverpool having served an eight-match ban for racially abusing Evra during a previous game last October.
And the mess that surrounds Chelsea's John Terry who has been stripped of the England captaincy while he awaits a criminal trial on charges of racially abusing QPR's Anton Ferdinand just adds weight to Cameron's concern that he has no choice but to intervene.
Copyright © 2011, DPNLIVE – All Rights Reserved