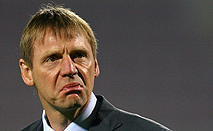 stuart-pearceAll the signs indicate that England caretaker manager Stuart Pearce expects to be in charge for Euro 2012 this summer. He has already begun speaking to certain Premier League managers about the fitness and form of players who are up for possible selection to the English team panel.
Several commentators have said that Pearce, placed in temporary charge of the team for the friendly against the Netherlands on February 29th, has operated in the belief that he might be needed to lead the team in Poland and Ukraine if the English Football Association fails to select a successor to England's former manager, Fabio Capello.
Incredibly it appears that Harry Redknapp, the favorite for the job, has had no contact with the FA on the matter which is why Pearce is preparing himself for Euro 2012.
The FA has sent letters to every English player named in a provisional squad by Capello over the past 18 months. They explain that the player is being considered for the Euro 2012 squad and that if successful they will leave England for Krakow around June 5th.
It's not known how many players received this coveted letter but anecdotally the figure is put at 70.
England is booked to play friendlies against Norway on May 26th and against Belgium at Wembley a week later.
The domestic season for English football ends May 13th and the Euro 2012 squad will be publicised shortly after.
Copyright © 2012, DPNLIVE – All Rights Reserved