"Bad cop, bad, bad cop" says it all.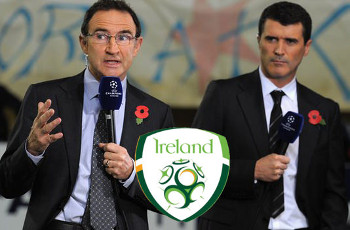 martin-o-neill-roy-keaneI liked the headline quote in the Irish Herald on Wednesday, 6th November concerning the appointment of Martin O'Neill and Roy Keane as the new manager and assistant manager of the Irish national soccer team – "I'm the bad cop, Roy's the bad, bad cop".
It set the tone, as the newspaper said, for the next two years with a brilliant one line built-in message from O'Neill.
Both he and Keane signed a two year contract on Tuesday 5th November and it's worth remembering that both of them have something to prove.
For O'Neill it's a chance to walk on the big stage again after his disastrous stint at Sunderland. Make no mistake, this man knows his football.
And Keane, well, while he does not have the experience of O'Neill, he too has a few things to prove after two attempts at management delivered mixed results.
But both are passionate about the game and each man is a born winner with neither of them taking a half-hearted approach to getting results on the pitch.
One thing is for sure; these guys are not renowned for their patience when it comes to indiscipline, which means that the Irish squad will have to on their best behaviour at all times.
With O'Neill and Keane based in the UK, the players will also know that they will be monitored very closely by two men who have a huge store between them of football knowledge.
So it's the start of a new era for the Irish international team and the pundits view is that the new double act can deliver.
Follow us on Twitter - @DigiPrintNews
Like us on Facebook www.facebook.com/DPNLive - (click the 'LIKED' button/top of page as well)
Copyright © 2013, DPNLIVE – All Rights Reserved.