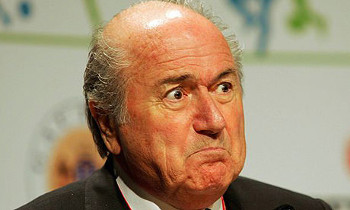 Sepp BlatterIt seems FIFA President Sepp Blatter just can't keep out of the news these days. With his organization embroiled in corruption allegations Blatter's latest remark that racial abuse on the field could be settled by a handshake has caused outrange in the soccer world.
The UK's sports minister, Hugh Robertson and Gordon Taylor, the Chief Executive of England's Professional Footballers Association were amongst many who urged him to resign. Even The European Union described his comments as totally unacceptable.
Amongst a host of previous "gaffs" that Blatter has made included suggesting that female players should wear tighter shorts, and that gay fans should refrain from having sex at the 2022 World Cup in Qatar. Why? Because homosexual acts are illegal there.
His ludicrous comment about racism in that now "infamous" TV interview comes at a time when football authorities in the UK are investigating two allegations of racial abuse involving Liverpool and Chelsea players during Premier League games.
Manchester United defender Rio Ferdinand also had a go at Blatter on Twitter saying his views were "so condescending, it's almost laughable."
Not long after Blatter's remarks, the English Football Association charged Liverpool forward Luis Suarez with racially abusing Manchester United defender Patrice Evra, who is black. Liverpool insisted that Suarez will plead not guilty and said that the club is "fully supportive of Luis in this matter."
So what happens if the unthinkable happened and Blatter did resign? Well FIFA rules require that the Senior Vice President, at present Julio Grondona of Argentina, take over until a new election is held at the next congress, scheduled for May in Budapest, Hungary. Grondona, who is 80, is also no stranger to controversy. In 2003 he said Jewish men could not be top-level referees because they "don't like hard work."
Is it their age or is that these men are just plain STUPID! You tell me.
Copyright © 2011, DPNLIVE – All Rights Reserved