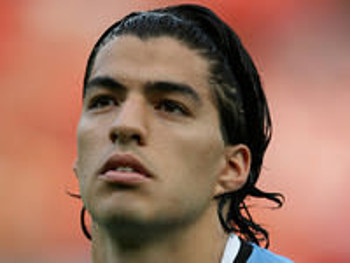 Luis SuarezThe English FA has sent the strongest message out yet that racism will not be tolerated by handing out an eight-game ban to Liverpool striker Luis Suarez over comments made to Manchester United's Patrice Evra.
The case has caused widespread controversy since both teams met at Anfield on October 15th. It finally ended in spectacular fashion with the dramatic decision handed down by a three-man disciplinary panel of the FA.
Many in the game felt that the complicated nature of the incident – one player's word against another's – would allow Suarez escape any punishment.
As it turned out, he was given a sanction far in excess of what many realistically expected and as expected Liverpool went into immediate counterattack mode.
A Liverpool spokesman is quoted as saying-
"We find it extraordinary that Luis can be found guilty on the word of Patrice Evra alone when no one else on the field – including Evra's own teammates and all the match officials – heard the alleged conversation between two players in a crowded Kop goalmouth. "It is our strong belief, having gone over the facts of the case, that Luis Suarez did not commit any racist act. It is also our opinion that the accusation by this particular player was not credible."
The concept of the punishment is entirely commendable as racism has blemished English soccer for far too long. In the bad old days of the 1980s players were constantly subjected to systematic abuse on a weekly basis from both opposition fans and players. Bananas were thrown at them and all forms of profane chants were part and parcel of the game.
One of the probable reasons for the severity of Suarez's punishment is that in recent times there has been an upsurge in racism in the UK. It appears that the powers that be felt it was time to put down a marker in order to make it quite clear that, unlike FIFA president Sepp Blatter's recent stupid remark that any racist acts on the field should be settled with "a handshake", the English FA will not tolerate a return to those days of the 1980's.
And what about Liverpool club itself? Their argument centres on whether there was enough evidence to dish out such a sentence at Suarez in this way. The club is highly likely to launch a powerful appeal that could see the issue continue to be at the forefront of soccer for many months to come.
Copyright © 2011, DPNLIVE – All Rights Reserved