Company launches the VG-640/540, the first Eco-Solvent Printer/Cutters from its new TrueVIS Series.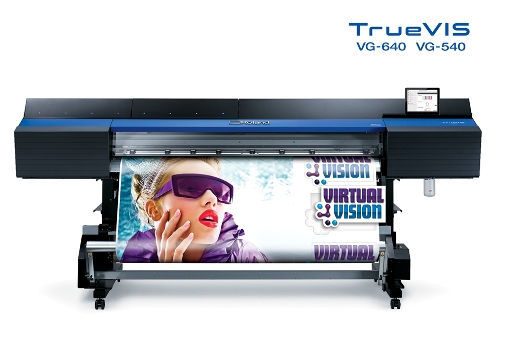 Roland TrueVIS VG 640 In what has been described as a new generation of advanced wide-format, eco-solvent inkjet printer/cutters, Roland DG Corporation have launched worldwide , the TrueVIS VG-640/540 64" and 54" printer/cutters.
Division president of Roland DG business development unit, Yuko Maeda commented that the VG series represents Roland DG's most advanced printer/cutters ever. He said;
"Our goal was to provide an innovative, state-of-the-art solution for our customers' businesses, while delivering optimum production capability for a vast array of signs and graphics. VG printer/cutters are the ideal tool for producing indoor and outdoor advertising, vehicle graphics, banners, posters and displays, labels and decals, packaging prototypes, apparel heat transfers and more."
Maeda went on to explain that for Roland DG customers moving forward, the TrueVIS brand expands Roland DG's technical capabilities in ink formulation, printhead design, precision control, and firmware engineering, resulting in far greater flexibility.
"We will now be able to match the most appropriate head technology to each application and market that we serve, delivering the best available solutions to all of our users," said Maeda.
TrueVIS VG series printer/cutters are equipped with four newly developed Roland DG FlexFire printheads. These have been designed to flexibly control the metallic plate attached to the ink chamber, for a higher firing frequency. The FlexFire printheads also deliver precision droplet placement in three sizes, and an approx. 25 per cent wider print pass compared to previous Roland DG models. Maeda continued;
"The combination of the new FlexFire head and new TrueVIS INK – engineered specifically for the printheads – delivers fine details and vibrant colours at a production speed of 10.6 m2/hr in high quality mode on vinyl and up to 34.8 m2/hr on banner in dual CMYK ink configuration."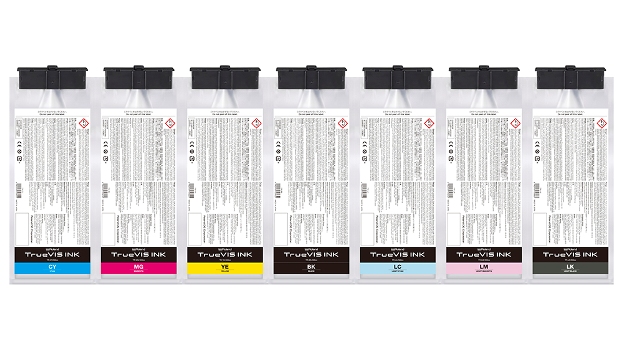 Roland TrueVIS ink The VG-640/540 also offers seven-colour (CMYK plus Light Cyan, Light Magenta and Light Black) or eight-colour (CMYKLcLmLk plus White) ink configurations. White ink provides excellent opacity for transparent window graphics while Light Cyan, Light Magenta and Light Black offer smooth gradations, perfect skin tones and beautiful images.
The VG-640/540 uses new TrueVIS ink which comes in 500cc pouches. These fit neatly into reusable cartridges which slide into a hidden ink bay. In dual CMYK configuration, up to one litre of ink can be loaded for each colour, a feature very suitable for high-volume production. Ticking the box for environmentally friendly products, TrueVIS ink is Greenguard and Greenguard Gold certified.
Included with the VG Series is new Roland VersaWorks Dual RIP software which features a new core engine that accurately interprets native PDFs as well as legacy PostScript files, including files with transparencies. The precision cutting mechanism of the VG-640/540 is adopted from Roland DG's latest cutting advancements, facilitating reliable contour cutting of complex designs, and expanding the range of possible applications such as cutting thick materials for laminated floor signs.
The VG-640 and 540 are also designed to be easier to use than other similar devices. One example of this is the newly developed Roland DG Mobile Panel. This allows users to perform control panel functions with their existing smartphones or tablets with iOS or Android operating systems, utilising a Bluetooth connection. The new feature provides an interface either directly on, or remotely in range of the VG, enabling operators to receive machine status updates as well as make adjustments and conduct test printing and cleaning functions from their mobile device. Another example is newly featured LED lights to boost visibility inside the printer, making it easier to check printing status and perform maintenance work, as well as providing colour-coded operation updates.
Maeda summed up the latest technology by saying the TrueVIS marks a new level of reliability and economy.
"The optimised printing technology enables the VG to produce vibrant colour with low ink consumption and minimal electricity in comparison with alternative ink technologies. This results in significant savings over the life of the product."

"Roland DG introduced eco-solvent wide-format printers and printer/cutters more than 10 years ago, "Maeda added. "And they continue to be the number one choice for durable graphics worldwide. As a global leader, we recognised the need to continue moving the market forward which is why we developed the TrueVIS brand. The brand concept of TrueVIS," Maeda continued, "represents harnessing true precision and power – "VIS" in Latin – to bring our customers' VISION to life, in order to achieve stunning VISUAL results. We believe the functionality of the VG series, combined with our extensive customer support – including Roland DG Care, Roland DG Creative Center and Roland DG Academy – will lead to the expansion of our customers' businesses and the entire industry."
For Roland DG UK, an exciting time lies ahead as it will launch the TrueVIS VG series at Sign & Digital UK 2016 where it will be the star attraction for the company. The show, taking place on the19 - 21 April 2016 at the Birmingham NEC will feature demonstrations from experts in Roland DG print technology throughout the event. Visitors will have the opportunity to see the TrueVIS series, alongside Roland DG's other recent launches; the SOLJET EJ-640, Texart XT-640 and VersaUV LEF-300.
Not only will the TrueVIS VG-640 be on display nationally for the first time at Sign & Digital UK, visitors will be offered the chance to add the latest piece of industry technology to their own print shops by entering Roland DG's Scratch and Win prize draw; with the grand prize being a choice of either a VG-640 print and cut device or a SOLJET EJ-640 printer.
To learn more about Roland DG's new TrueVIS VG Series, TrueVIS Inks or the Scratch and Win prize draw, please visit www.rolanddg.co.uk
You can Tweet, Like us on Facebook, Share, Google+, Pinit, print and email from the top of this article.
Copyright © 2016, DPNLIVE – All Rights Reserved.