---
As innovation goes you have to hand it to Pepsi. The global brand has just announced the launch of its latest digital addition to the 2012 Kick in the Mix campaign, a Facebook application which sees the world of music and football collide in a truly original experience.
---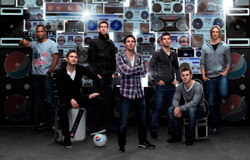 Pepsi-2012---Campaign-AnnouncementThe concept behind Pepsi's interactive app pulls in the user in a highly unusual manner. It follows the user's journey moving through a VIP party experience in which they meet, interact and hang out with the Pepsi football stars: Agüero, Wilshere, Drogba, Lampard, Torres, Arshavin, Podolski as well as five pre-selected Facebook friends along the way. The app's novelty is its seamless way of pulling the users' personal profile pictures into the narrative, featuring them throughout the video. Pepsi believes this will make the experience unique for every Pepsi fan by making them the star of the campaign.
By building in a personalised functionality the interactive app includes casting the user as a remix DJ, whose exclusive VIP party experience comes to life using Calvin Harris's hit single Let's Go feat. Ne-Yo.
Pepsi's Facebook app will be available in over 35 countries around the world and builds upon the beverage brand's legacy in expert digital marketing.
Mark Elwell, general manager, PepsiCo Ireland, said: "We're thrilled to be announcing this amazing new app on Facebook. Pepsi and its parent company PepsiCo have a legacy of implementing cutting-edge digital initiatives and with this new app, we really wanted to highlight the football and music elements of the Kick in the Mix campaign in an innovative and unique way."
To view the Pepsi Facebook app visit www.facebook.com/PepsiMaxIreland
Copyright © 2012, DPNLIVE – All Rights Reserved