An Affordable Way to Become a Digital Artist.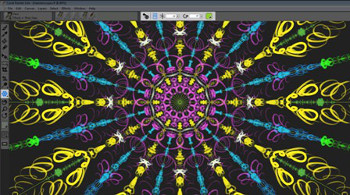 Corel Painter lite Kaleidoscope and Mirror PaintingCorel has released Painter Lite, a new painting app designed specifically for aspiring digital artists. Based on the original Corel® Painter™, the new app has been created to give digital art enthusiasts an affordable way to experience realistic digital painting. It has a wide range of brushes including acrylics, markers, impasto and special effects which Corel believes will open up a world of creativity for anyone looking to pursue an interest or future career in digital art.
"We often hear from today's aspiring artists that they're looking for a way to dive into the world of digital art but don't know which tools they need to get started. With Painter Lite, we're not only offering a seamless and natural transition from canvas to computer, but we're also providing a simple and affordable entry point for anyone to experiment with different techniques and mediums," said Andy Church, Senior Product Manager for Corel Painter.
Painter Lite integrates high quality painting and drawing tools with a simple interface for up-and-coming professionals to experiment and grow their skills.
Corel Painter Lite Features include:
• Wide range of brush categories from digital watercolour, oil brushes and air brushes to pencils, pens, sponges, chalk, pastels and crayons
• Trendy tools and effects like blenders, palette knives, kaleidoscope painting and mirror painting to inspire creativity
• Easy-to-use interface and navigation with built-in help
• Ability to pair with a digital art pen and tablet to experience pressure sensitive brush control that behave like traditional art tools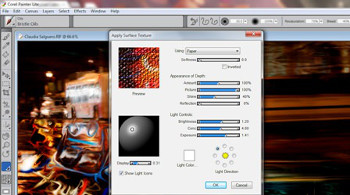 Corel Painter Lite Image editing and effects• Entry-level digital art software for Mac and Windows with progressive drawing tools and lifelike natural-media brushes
"Painter Lite is a great starting point for those with an interest in art or desire to become a full-time artist," said Greg Newman, Corel's newest Painter Master. "People can experiment with a wide range of brushes and methods that can be built upon in the full, professional version of Corel Painter."
Availability and Pricing - Corel Painter Lite
Corel Painter Lite is available for Windows and Mac worldwide, in English only. The Windows version can be purchased from Corel's website www.corel.com/painterlite for £54.99, VAT included, and the Mac version can be purchased from the Mac App Store.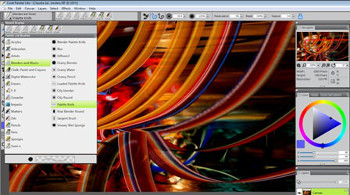 Corel Painter Lite Blenders and Palette Knifes

Copyright © 2012, DPNLIVE – All Rights Reserved