Adds Protection for iOS devices and contacts backup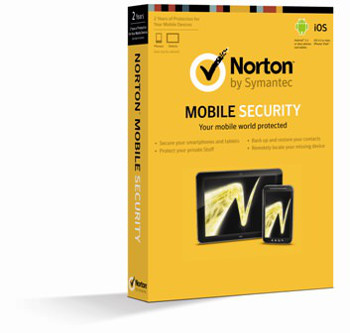 NORTON MOBILE SECURITYNorton has released the latest version of its flagship mobile offering, Norton Mobile Security. The new Norton Mobile Security delivers enhanced protection for consumers' mobile needs, including support for iOS devices and contacts backup.
In addition, Norton 360 Multi-Device, a wide-ranging security solution that provides security across platforms and devices is now also available including support for iOS devices. As the name suggests it's designed for consumers who have multiple devices such as PCs, Macs, Android-based phones and tablets.
Now that mobile phones have become an integral part of consumers' lives, it's reported that two-thirds of adults worldwide use a mobile device to access the Internet. However, one in three mobile device users have had a device lost or stolen, putting their sensitive information at risk. Norton said its Mobile Security was developed to help consumers keep their device secure, recover a lost or stolen device and prevent strangers from accessing their information.
"It's no secret that people are using mobile devices more than ever in their daily lives, for everything from connecting with friends to paying for a cup of coffee," said Dave Cole, vice president, product management, Consumer Business Unit, Symantec Corporation. "Your phone may not just be your phone – it may be your wallet, identity card, address book and family photo album. As we use our phones in new ways, we're also putting sensitive information at risk if the device gets lost or stolen. With the latest version of Norton Mobile Security, we are making it simple for people to stay protected on whichever device they choose."
Norton Mobile Security offers new and improved features including:
• Multi-Device, Multi-Platform Support – Now protects multiple devices, including Android smartphones and tablets, as well as iPhones and iPads
• Contacts Backup & Restore – Saves contacts from a user's Android or iOS device so that they can be easily restored if lost or deleted. Contacts can also be restored across devices
• Web-Based Management – Lets consumers control the security of their devices from one convenient place on the Web
• "Scream" Alarm – Sets off an audible alarm so consumers can quickly find their missing Android mobile device
• Remote Locate – Pinpoints a lost or stolen device on a map so users can find it fast
Availability
Norton Mobile Security is available for purchase via various retailers, the Norton online store or Google Play. In addition, Norton 360 Multi-Device and Norton One will be updated with the features in the latest release of Norton Mobile Security. Norton customers with a valid product subscription are eligible to receive the latest product updates via the subscription service model. For more information, visit the Norton Update center at http://updatecenter.norton.com Consumers can visit mobilesecurity.norton.com to learn more and try Norton Mobile Security Lite for free.
Visit mobilesecurity.com for additional insights from Norton mobile security experts, including articles, videos, widgets and infographics shedding light on timely mobile topics.
Norton Protection For Multiple Devices
Norton 360 Multi-Device provides security and protection for multiple consumer devices and platforms -PCs, Macs, Android-based phones and tablets, including support for iOS devices. Consumers can choose any combination of the options below depending on the quantity and type of devices owned.
• Norton 360 Premier for Windows PC
• Norton Internet Security for Mac
• Norton Mobile Security for Android and iOS
Availability
Norton 360 Multi-Device is available for purchase at various retailers and online at uk.norton.com. All Norton 360 Multi-Device customers with an active account are eligible to download the latest product versions and updates during their paid period.
Norton
Copyright © 2012, DPNLIVE – All Rights Reserved