Ricoh study reveals companies are being crippled
by lack of IT know-how from the C-Suite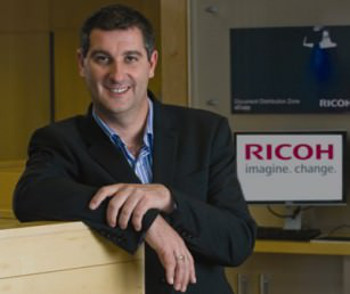 Chas Moloney director Ricoh UK and IrelandResearch just published by Ricoh has found that old legacy systems are holding back 79 per cent of Irish and European businesses from maximising the full capabilities of new technologies. The survey of over 1000 business leaders across Europe, including Ireland, by Coleman Parkes highlights the growing divide between the back and front office when it comes to technology investment.
The study shows what we all know that new technologies and devices are all very tempting. A significant amount of business leaders admitted they invest in new technology but never consider evaluating the functionality of their existing systems against these new technologies. So despite businesses taking advantage of devices such as smartphones and tablets, it appears many are exposed to a myriad of problems such as bottle necks, duplication of effort and security risks since their old back-end systems can't support these new devices. The result is a situation where information can't be shared effectively throughout the entire organisation.
Chas Moloney, director, Ricoh UK and Ireland, said, "Whether businesses believe tablets and smartphones are the business tools of the future, or will be superseded by the next wave of innovation, it's clear that technology driven change will continue and with it bring new ways of working and communicating. For Irish businesses, the challenge is to plan for the long term and bring everyone in the organisation on the same journey at the same time. That means fully integrating the front and back office, connecting people with information, and enabling collaboration and knowledge sharing seamlessly throughout the organisation."
Another finding from the report highlighted confusion about how to best use the cloud for business advantage. It found that while 70 per cent of businesses are using the cloud to enable mobile access to document processes, only half of respondents believe that it is making their document process management easier. Ricoh believes this shows companies need to have proper structures in place before investing in the cloud to ensure it will deliver the desired improvements.
"This means that European businesses, including many in Ireland, will fail to benefit from their share of the predicted annual boost of €160 billion that the European Commission predicts cloud computing will add to the European Union's GDP by 2020," continued Moloney.
The research is part of the Ricoh Document Governance Index 2012. It is the second part of a series of reports into how businesses link their business-critical document processes with business technology and employees to achieve a connected business. Download the research here: http://thoughtleadership.ricoh-europe.com/eu/anewperspective

Copyright © 2012, DPNLIVE – All Rights Reserved