Company awarded Sophos Irish Partner of the Year for third year running.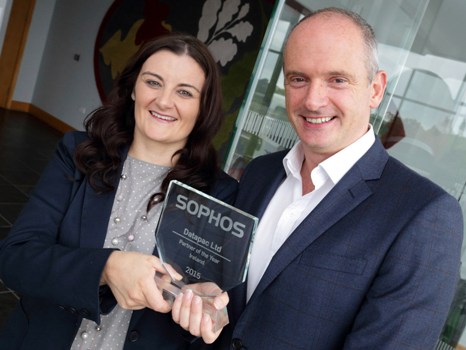 Karen O'Connor, General Manager service delivery, Datapac with Dermot Hayden, country manager, Sophos Ireland Datapac, one of Ireland's leading ICT solutions providers, has been awarded Sophos Irish Partner of the Year 2015; marking the third year in a row the company has received this award. Datapac was chosen due to its strong ability to identify and secure growth from existing and new customers using Sophos solutions. Additionally, it was singled out for its commitment to providing excellence across the entire spectrum of the Sophos IT security portfolio which is used by more than 100 million users in 150 countries as one of the best protection against complex threats and data loss.
Over the past year, Datapac secured an increase in sales of 79 per cent on the previous year. The company grew its revenues by 50 per cent from its existing base of IT security customers by introducing additional Sophos products and services. It also expanded its overall number of customers using Sophos by 80 per cent, including BAM Ireland, Kefron and Nutribio / Cooperative Animal Health Ltd.
The growth created by Datapac comes at a time of a large increase in cyberattacks and a growing realisation of the importance of IT security. UK headquartered Sophos is considered a world leader in this area and provides solutions to over 100,000 businesses worldwide. The Irish Partner of the Year was announced at the 2015 European Sophos Partner Connection Conference, held in Rome in June.
Speaking about the award, Karen O'Connor, general manager service delivery, Datapac, said: "This award recognises the huge growth that we have enjoyed with Sophos in the Irish market over the past year. We hold the highest levels of accreditation with Sophos and have a deep understanding of their products. More importantly, we understand the complexity of the threat landscape and its impact on Irish organisations, and we can implement the best-fit solutions to combat this."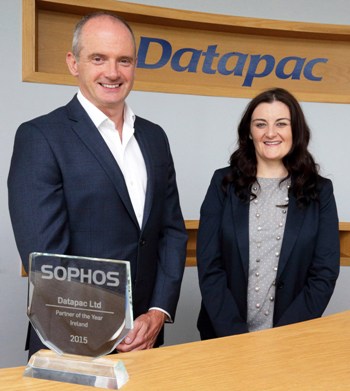 R - L Karen O'Connor, general manager service delivery, Datapac with Dermot Hayden, country manager, Sophos Ireland Dermot Hayden, Sophos country manager, Ireland, added: "We're delighted to once again present this award to Datapac in recognition of its outstanding ability to increase growth in Sophos solutions in Ireland. Information security has never been a bigger priority and it's important that Irish organisations are protecting themselves through trusted solutions like unified threat management, mobile security and end user protection."
Datapac and Sophos recently hosted a seminar entitled Redefining IT Security for your Business, looking at the current landscape for IT security in Ireland in the Dean Hotel, Dublin 2. Speakers discussed the latest trends in cybercrime, including a worrying increase in malware attacks, and emphasized the need for organisations to have an integrated IT security infrastructure.
For further information, visit www.datapac.com
You can Tweet, Like us on Facebook, Share, Google+, Pinit, print and email from the top of this article.
Copyright © 2015, DPNLIVE – All Rights Reserved.