Roland DG launches free online service in Europe.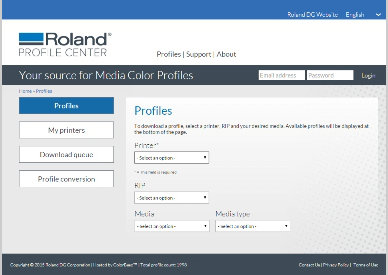 Roland Profile CentreRoland DG has released details about the launch of its new Roland Profile Centre (www.rolandprofilecentre.eu), a free online service that has been designed to make it easy for customers to immediately access media profiles for Roland eco-solvent printers and printer/cutters. Following what the company termed 'the successful launch of the Roland Profile Centre in the Americas region', customers in Europe can now register and enjoy the benefits of this useful on-demand service, available in six languages.
Initially customers will be able to download profiles for ECO-SOL MAX 3, Roland's newly launched eco-solvent ink. In the future, the service will extend to offer profiles across the full range of Roland DG inks from major media manufacturers and RIP software producers.
In just a few simple steps Roland DG customers can find and download profiles for the most commonly used medias. The Profile Centre also offers a convertor tool that enables customers to transform their existing ECO-SOL MAX and ECO-SOL MAX 2 profiles to those that will work optimally with ECO-SOL MAX 3 ink.
"Having just launched ECO-SOL MAX 3 inks to our customers, the Roland Profile Centre is yet another example of Roland's commitment to providing state-of-the art printing solutions to our customers", stated Jerry Davies, President, Roland DG, EMEA."As well as offering an impressive new service to our users, the Profile Centre now enables even closer collaboration between Roland DG and leading RIP software and media manufacturers".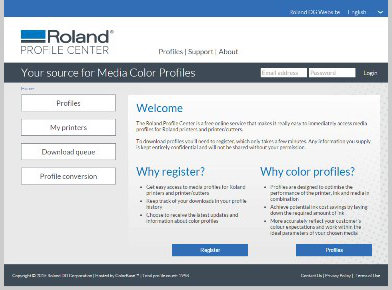 Roland Profile CentreFinding, downloading, importing or converting a profile using the Roland Profile Centre only takes a few clicks of the mouse. A comprehensive support section within the Roland Profile Centre can guide customers safely through the process. Customers with any further questions should contact their dealer or local Roland DG office (details can be found at www.rolanddg.eu).
Media manufacturers and RIP software producers who would like further information should call Roland DG UK on 0044(0)1275 335540 or visit www.rolanddg.co.uk
http://www.innovaart.com/
You can Tweet, Like us on Facebook, Share, Google+, Pinit, print and email from the top of this article.
Copyright © 2015, DPNLIVE – All Rights Reserved.