CMYUK launches digital learning centre on its new You Tube channel.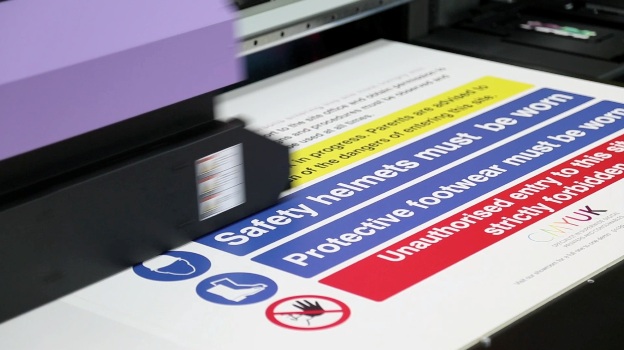 Screenshot from the new film Mimaki JFX200 - Printing Pre-cut Boards with CMYUK The team at CMYUK is helping its customers get the best from their machines through a series of 'How to' tutorials on its new 'CMYUK Showroom' channel on You Tube.
It plans to make around ten videos a month and the simple instructional films already available include producing short run packing and prototypes, printing i-phone cases and pens, printing pre-cut boards on Mimaki printers, and greyscale printing on a Vutek H2000.
"We wanted to offer our customers a bank of professional tutorials that will enable them to get the most from their equipment, and to diversify into new markets," explained CMYUK director Robin East.

"The videos we create for our You Tube channel are based on direct feedback and 'frequently asked questions' from our demo centre. The customers that visit our demonstration suite ask to see practical applications that are real, relevant and useful for their business so we decided to share these demonstrations with a wider audience by creating a digital learning centre online.

"For example the next video will be on the Zünd G3 cutter XY trimming at speed, which demonstrates the accuracy and efficiency of the cutter enabling common line removal for increased productivity. What this means in effect you can cut up to fifty 750mm x 2m pop-ups in 10 minutes flat."
Other tutorials in the pipeline for the Zünd G3 are:
Speed perspex routing including inlaid paths for 3D signage creating niche applications. The wide array of tooling offers finishes up to 50mm in depth for multiple applications, executable on one platform, with the highest precision and quality on each process.
Processing 16mm ReBoard, typically used in point of sale and exhibition stand applications. Zünd Cut Centre uses the registration marks to calculate the relevant distortion and position for the Thru-cut and the Electric Oscillating Tool 250 can process not only thick touch honeycomb media, but also corrugated packaging medias, Kapa foam type materials and up to 50mm thick foams.
Reverse head registration crease and cut for corrugated board typically used in point of sale applications. The Zünd reads the registration marks like a standard print and cut process, then automatically mirrors the file to suit. The product is then cut and creased from the reverse without any manual interaction.
Zünd Cut Centre Software which guides any user through the steps of digital cutting, including Import of jobs and Hotfolders; Cut Queue with barcode scanning, time estimation, filtering, production setup and simultaneous cutting and preparation; Cut Centre with tool ID, timings, blade mileage, material database, auto vacuum adjust, safety features (red or green warnings), visualisation; and Cut Editor with inlays, cut optimisation, common line removal, file editing.
For more information, visit www.cmyuk.com, go to https://www.youtube.com/channel/UCejfkkXzUbEekxrXBBHdfpQ or go to www.youtube.co.uk and search for CMYUK Showroom.
You can Tweet, Like us on Facebook, Share, Google+, Pinit, print and email from the top of this article.