EFI Packaging Suite 4.0 Offers New Value for Label, Folding Carton and Flexible Packaging Converters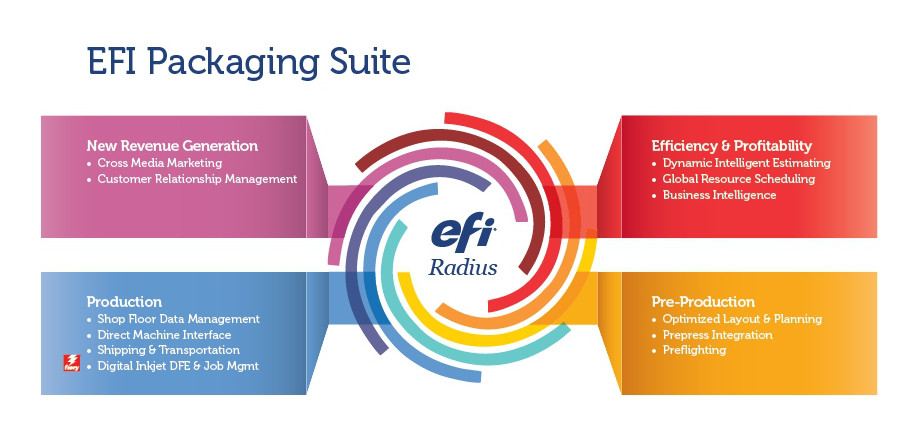 efi productivity software
EFI has released the EFI Packaging Suite 4.0, the company's latest ERP-based suite of software solutions providing packaging enterprises with end-to-end workflows that contribute to profitability by increasing efficiencies. The Suite includes an expanded offering of certified integrations that optimise business and production operations for label and packaging converters. The new packaging ERP platform was shown for the first time at drupa 2016 in Düsseldorf, Germany.
The 4.0 release expands EFI's offering to include 20 certified workflows that provide unprecedented levels of business and production automation geared toward real-world label and package converting environments. Each certified workflow combines the core EFI Radius® ERP solution with modular, integrated components from EFI's industry-leading portfolio, as well as with key third-party technologies, such as Esko's Automation Engine. Packaging operations are able to configure their individual Packaging Suite workflow to address the specific production management needs for products they offer, including folding cartons, labels, shrink sleeves, in-mould labels, flexible packaging and blown film extrusion products.
The EFI Packaging Suite helps many leading label and packaging converters drive efficiency and productivity, and the Suite's extensive data analysis tools help those customers increase their competitive advantage. For EFI customer Firstan Ltd  - the UK's leading independent manufacturer of pharmaceutical healthcare and specialist food carton packaging - the Suite has increased the accuracy with which the company can profitably operate and grow.
Andrew Hartwig is Firstan's Managing Director. He said
"The big plus is the data capture and planning. We are able to see the capacity we are using on the factory floor, looking at overtime, holidays, and so on for planning. We use it for purchases and factory management. We can now make accurate quotations and know that the margins we aim for are what we will actually get."
The benefits of a continuously evolving offering
Another EFI user, Ann Meredith, systems analyst at SPR Packaging in Rockwall, Texas, is managing operations more efficiently with the data the newest version of the software suite provides.
Ann said
"As an early adopter of Packaging Suite 4.0, we have been able to accelerate our flexible packaging and film extrusion workflow. The Suite lets us purchase and track resins using weight-based units, while being able to review job based activity in lengths or counts when it makes sense. Making this data available in additional units within the software is a requirement for many flexible packaging enterprises and just one example of how EFI continues to evolve its offering to help our industry work more accurately and efficiently."
David Taylor is the general manager, enterprise segment, EFI Productivity Software.  He said
 "The Packaging Suite takes complexities out of the software implementation process, improving the day-to-day experience for users in their end-to-end label and packaging converting workflows. Converters and the brands they serve will benefit from key advancements in customer engagement and management, order acquisition, scheduling production, data collection and financial and business reporting."
Synchronised, advanced workflow development for converters
The EFI Packaging Suite drives higher levels of efficiency and cost optimisation, improving label and package converting operations by:
giving users visibility across the business so they can make informed, proactive decisions
providing robust, real-time scheduling that can maximise productivity by efficiently responding to process changes and interruptions across the enterprise
delivering out-of-the-box, end-to-end optimised business and production workflows
integrating and automating EFI software solutions across users' administrative and production environments
maximising profits from existing jobs while supporting the development of new revenue streams.
Key features among the many advancements in the new, upgraded Packaging Suite are:
Award-winning EFI Dynamic Intelligent Estimating and Planning component with advanced CRM and job-planning capabilities for folding cartons. The component's intuitive, browser-based interface and flexibility to match equipment and processes make it fast and easy to implement and use for fast, accurate and consistent estimates regardless of the user's experience level. It also delivers smart, automated production planning using the most cost-efficient job path.
Significant workflow enhancements for film extrusion and flexible packaging converting, including enhanced support for extrusion and lamination processes with better recording and tracking of weights throughout the core Radius ERP component.
Role-based widgets for estimators and customer service representatives in a new Packaging Suite Workbench - a centralised collection of role-based widgets that are defined by user type with an interface that helps estimators and customer service personnel achieve maximum productivity.
Packaging converters' workflows also gain the benefits in easier implementation in upgrades with the Suite, thanks to synchronised delivery of validated and certified software updates. 
"In the past, adding or upgrading a business workflow usually meant packaging converters had to endure a significant amount of custom IT work, slowing implementation, and - in some instances - limiting use of features they had purchased," said Taylor. "Our synchronised delivery framework gives converters a faster route to success, and a greater ROI as they expand and customise their workflows to address new markets or tackle important business challenges."
Printing and packaging professionals across the globe rely on EFI's portfolio of workflow products to manage their businesses and become more streamlined, efficient, informed and profitable. For more information about the EFI Productivity Suite of products, visit www.efi.com.