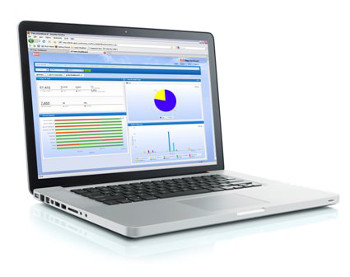 EFI Dashboard MonitorEFI has just launched Fiery® Dashboard, a cloud-based service that enables owners and production managers to analyse their operations, thereby enhancing business decisions. Fiery Dashboard, introduced recently at the 13th annual Connect users' conference in Wynn Las Vegas, provides round-the-clock access to real-time production data from any internet browser, mobile phones and tablets. Connect attendees saw the service in action in the solutions lab. A 30-day free trial is available now (go here) as well as a video demo (available here).
"From printer uptime and utilisation to media use and paper jams, as well as a host of other metrics, now print shop owners and managers can take better control of their operation with our cloud-based Fiery Dashboard service," said John Henze, vice president of Fiery marketing at EFI. "Users don't have to be in their shop to stay on top of their operations, and don't need to stop the presses to get the information necessary to make the right, data-driven business decisions."
The Fiery Dashboard is designed to enable managers to collect a large amount of production-level data to monitor and measure what is most important to them. The dashboard view can be customised allowing users to focus on specific printers or groups of printers, define targets for engine utilisation, or choose different date ranges to measure daily, weekly, quarterly or even annual growth. Managers can see engine utilisation and status, jobs and pages printed by media and the split between colour and black-and-white. There are also a range of metrics that identify the source of production inefficiencies, from job errors and cancellations to paper jams. Fiery Dashboard also incorporates system status such as when engines need calibration to ensure colour consistency in addition to identifying current level of software updates.
Owners and managers can compare these metrics between any or all Fiery Driven™ printers in the shop to understand relative engine productivity to leverage resources across the shop more efficiently. For instance, an owner may want to track black-and-white pages printed on a colour device to determine if it makes more sense to purchase a dedicated black-and-white printer. Another example enables managers to compare printer utilisation to help balance workload and optimise time shifts and schedules.
Availability
The company has released no details on when Fiery Dashboard launches in Europe.
A 30-day free trial (www.efi.com/fierydashboard) is available now in the US and Canada. To purchase, contact EFI at This email address is being protected from spambots. You need JavaScript enabled to view it.
For more information about EFI, visit www.efi.com
Copyright © 2012, DPNLIVE – All Rights Reserved