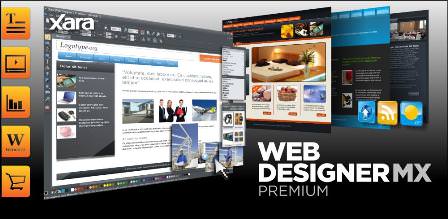 Xara Web Designer MX Premium Xara Ltd, a wholly-owned subsidiary of Berlin-based Magix AG, has just released version 8 of its popular web designer software. Xara Web Designer MX (v8) together with a more advanced version Xara Web Designer MX Premium (v8) combine the advantages of customisable design templates and free-form, web page design with flexible and innovative options for creating modern, multimedia websites.
Zara claims the new version offers unlimited possibilities for text layout, graphic design, image optimisation and publishing, all in one easy-to-use program.
A key selling point is that every aspect of the design can be customised. Users can re-arrange all page elements, add their own text, graphics and photos anywhere, and – unlike other web design software – Zara maintains that what you see in Xara Web Designer MX is exactly what you get on the web page.
Xara Web Designer MX has another innovative tool: an advanced text wrap-around irregular shaped graphics and photos. The designs gallery includes a collection of widgets to add more dynamic functionality to the website. Site upload is covered too and there's even a free web hosting offer from MAGIX Online World!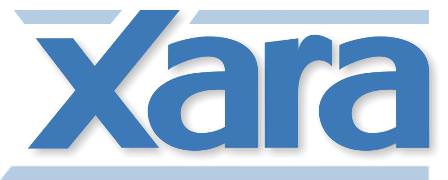 Xara logo The MX stands for Media Exchange whereby Xara Web Designer can exchange any graphic or photo with any other installed MAGIX MX application such as MAGIX Movie Edit Pro MX and MAGIX Online Albums as well as Flickr and Facebook.
It is the first program to provide automatic font embedding, thus removing the font limits that have bugged designers. This provides a major leap forward as Xara Web Designer has overcome the problem of encoding fonts in special formats for uploading to the server with the use of special JavaScript and HTML.
Both versions include enhancements that make it even easier to create a website in Xara Web Designer.
New features in Xara Web Designer MX and Xara Web Designer MX Premium include:
A new text styles feature that offers an efficient and powerful way of controlling the global appearance of text. Generates CSS compatible styles.
Automatic object positioning and page resize ensures all content is adjusted to fit neatly on the page when you add new content.
New inline graphics for embedding symbols and icons into text.
Improved display on mobile devices such as smartphones and tablets, such as smoother transitions and fade effects on iOS.
Many new page and graphic templates and over 3000 new categorised clipart designs
Many improvements and additions such as in-document pop up link checker, resizable colour editor, reposition or re-order multiple pages together, fast optimise all images on the page, photo enhance the hue, new key shortcuts, new widgets and many more.
New features in Xara Web Designer MX PremiumL
Embedded fonts – website creators can now use just about any font (assuming the font allows website embedding) and Xara Web Designer will create the special font and script required, automatically uploading it to the website.
New photo transition and improved slideshow Widgets. These no-Flash Widgets are compatible with all modern browsers including phones and tablets.
New interactive chart widgets. Enter your CSV data and create a resizable interactive chart, line graph or pie chart. Again this no-flash solution is compatible with all modern browser and devices
Create numbered lists and graphical bullet points – using Xara's vector graphics capabilities you can now design your own graphics for use in numbered and bulleted lists.
Many other improvements and additions such as a Live effects tool that introduces support for PhotoShop Plugins (and a bundle of over 30 plugins), support for SVG, OpenOffice Impress (.odp) and PowerPoint (.pptx) imports and updated camera RAW import.
Charles Moir, managing director, Xara, said: "With each new release we're making Web Designer not just more powerful, but also easier to use. With a growing number of professional web designers now using Xara Web Designer exclusively for all their website creation we appeal not just to graphic designers. The improved template handling makes it even easier for absolute beginners to create great looking websites. And with the free web hosting provided by Magix this is truly a complete web package. Improved text handling, great new widgets, the world's easiest font embedding solution, and new template make this the best Web Designer release yet."
Xara Web Designer MX (v8) operates on Windows XP, Vista and 7 and requires 500MB of RAM and 600MB hard-disk space.
For more information see www.xara.com/products/webdesigner
Copyright © 2012, DPNLIVE – All Rights Reserved