End-to-end system designed to maximise lean manufacturing.
---
SA International (SAi) has announced that it intends to demonstrate its recently launched PixelBlaster production software at the forthcoming EcoPrint Europe 2012 in Berlin. SAi is a leading provider of solutions for the professional sign making, large-format digital printing and CAD/CAM for CNC machining industries.
---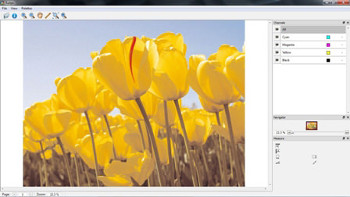 Visitors to EcoPrint will have the opportunity to hear about SAi's award-winning PixelBlaster™ print-to-finish production softwareThe PDF-based PixelBlaste is being marketed as an end-to-end system that optimizes an operation's entire large-format print workflow from pre-flight, job preparation, colour management, RIP to analogue or digital (CTS to screen), output check to printing and automated finishing. SAi maintain that it is the first solution of its kind to deliver standardised printing to the large-format sector. PixelBlaster is designed to cut consumables waste by ensuring each printer automatically generates exactly the same predictable and reproducible output quality and colour - regardless of the brand of hardware, the type of inks or the substrates used.
These efficiencies, the company claimed, are further enhanced by the way in which PixelBlaster's advanced colour engine allows easy integration of proofing into the production process. By accurately predicting the final output, the software solution offers a cost effective way of eliminating errors and significantly reducing media and ink wastage, while saving time.
"When addressing sustainable print production from a holistic standpoint, most print service providers would acknowledge that running a comprehensive end-to-end production workflow software plays a major contributory role in maximizing the potential of lean manufacturing", says Gudrun Bonte, Product Manager at SAi. "PixelBlaster typifies this by enabling improved production efficiencies, while reducing waste and cutting energy consumption costs."
PixelBlaster won the Best Wide-Format Software Solution at the 2012 EDP Awards which recognise innovative new digital products launched over the past year.
Copyright © 2012, DPNLIVE – All Rights Reserved
SAi, PixelBlaster, CAD/CAM for CNC machining, EcoPrint Europe 2012, large format print, RIP, automated finishing, ink wastage, substrates, media,