Helpful Learning Resources Enable Anyone to be a Designer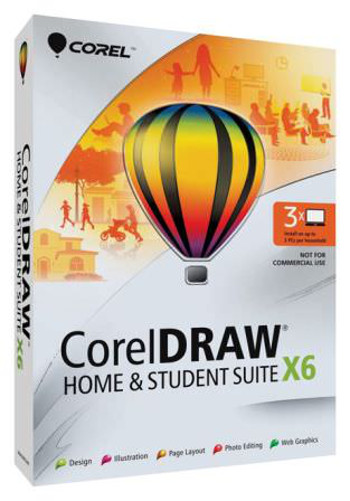 CorelCorelDraw Home & Student Suite 6 has launched the Home & Student version of CorelDRAW® Graphics Suite X6, a complete graphics suite offering graphic design, illustration, page layout, web graphics and photo-editing features. This latest version of CorelDRAW® Home & Student Suite is designed to provide students and families, with everything they need to easily create reports, drawings, flyers, logos and more. Corel believe that anyone can be a designer so the new suite offers a dedicated range of learning tools to help people get started. CorelDRAW Home & Student Suite X6 is only for non-commercial projects, and entitles users to up to three installations per household.
New features and enhancements
• Advance Typography tools:
• New Creative Vector Shaping tools:
• New Smart Carver™:
• Improved Page Layout Capabilities:
• Redesigned Object Properties Docker:
What's included in CorelDRAW Home & Student Suite X6:
• CorelDRAW® Home & Student X6, an intuitive vector-illustration and page- layout application
• Corel® PHOTO-PAINT™ Home & Student X6, a professional image-editing application
• Corel® PowerTRACE™ X6, a utility to quickly and accurately convert bitmaps into editable vector graphics
• Corel® CONNECT™, a full-screen browser to search the suite's digital content on a computer,local network, or disc and stock imagery from iStockPhoto® and Fotolia
• Corel CAPTURE™ X6, a one-click screen capture utility
Users also receive 1000 high-quality clipart and digital images; 100 high-resolution digital photos; 100 fonts, 100 professionally designed templates and 400 frames and patterns.
Copyright © 2012, DPNLIVE – All Rights Reserved
CorelDRAW Home & Student Suite X6 also includes learning tools as valuable video tutorials, helpful tips and tricks, insights from the experts and an inspiring electronic guidebook.