Upgrade to ensure full compatibility
with the latest CorelDRAW release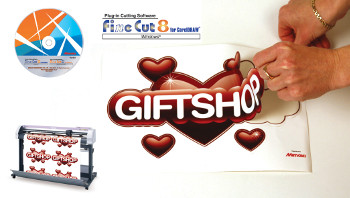 Mimaki FineCut is included with all Mimaki cutters and printer cuttersMimaki has released the 8.0.4 of its cutting plug-in software; FineCut, which supports CorelDRAW Graphics Suite X6.
CorelDRAW is a well established professional graphic design package. The suite offers high- end graphic design tools and incorporates web design facility, content-rich images and fonts, photo-editing capabilities. It also allows users to process bigger files and images with the augmented speed of 64-bit support. Mimaki FineCut 8 is the companies own plug-in cutting software which is provided as standard with all its cutting plotters and printer/cutters to provide sign making specific tools within industry standard graphics software such as Adobe Illustrator and CorelDRAW.
For existing Mimaki FineCut customers, the upgrade to version 8.0.4 is downloadable from the Mimaki website: http://eng.mimaki.co.jp/download . An original installation disc of v6 or v7 is required in order to verify the process.
To download the update, users should navigate within the download page to select options for Software; Cutting; FineCut8 for CorelDraw; and then the appropriate operating system for their PC. After that it's simply a matter of following the instructions for installing the upgrade.
Richard Williams, responsible for software at Mimaki's exclusive UK & Ireland distributor; Hybrid Services Ltd remarked; "The upgrade to ensure full compatibility with the latest CorelDRAW release will be a welcome addition for our sign making customers and offers them powerful and productive features out of the box."
For further advice and support customers should contact their authorised Mimaki reseller or visit www.hybridservices.co.uk for specific information related to FineCut.
Copyright © 2012, DPNLIVE – All Rights Reserved